March is always a packed month with International Women's Day events, speakers invitations, Endometriosis awareness activities and the UN CSW67 annual parallel session which AFMW hosted on March 15th. Alongside these events, were meetings around all things women's health.
I participated and contributed to the Peri-Menopause Roundtable in Canberra on March 7th. A team of us which includes AMS President Karen Magraith, Prof Susan Davis AO, Prof Rob Baber, Prof Jayashre Kularni AM, Dr Kelly Teagle, Dr Ginni Mainsberg presented on issues around menopause which encompass the need to increase awareness of these issues, empowering women to seek support, education of the community and health work force, with increased access to resources / treatments no matter where you are or what your ethnic background is.
The session was very constructive and the message was received loud and clear by the many MPs in the room, who seemed receptive and interested.
Later that week, I met with Assistant Minister Ged Kearney (pictured above) at a local IWD event in Northcote Melbourne.
Kat Theophanous MP is now Secretary to the Office for Women and running some fabulous programs with a view to expanding these across the nation. I met with friends and allies who work in the women's health advocacy sector and had a terrific catch up with Dr Nisha Khot too. AM Ged Kearney and I had a catch up session the following week, which was very constructive. More of these to come.
More work ahead for us all, but you can't beat the feeling of sisterhood when these challenges are met as one team!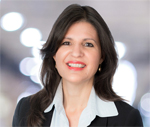 Magdalena is the President of the AFMW (2020-) and former President of VMWS (2013 & 2017-2020). She is a leading women's health expert, keynote speaker, climate change and gender equity advocate, government advisor and holds positions on several not for profit organisations bridging gaps across the health sector.
Magdalena's deep engagements with the RACGP over many years includes chair of Women in General Practice, is currently on the RACGP Expert Committee Quality Care, prior to that on RACGP eHealth Expert Committee. She is a regular media spokesperson on numerous health issues, being interviewed most weeks by mainstream and medical media. Magdalena has represented the RACGP at senate enquiries and has worked on several National Health Framework reviews, author of the RACGP Guide on Female Genital Cosmetic Surgery and co-reviewer of the RACGP Red Book Women's Health Chapter.
Both an RACGP examiner and University examiner she supervises medical students and undertakes general practice research and is a GP Educator. Roles outside of RACGP include the Strategy and Policy Committee for Breast Cancer Network Australia, Board Director of the Melbourne University Teaching Health Clinics and the elected GP representative to the AMA Federal Council.
Magdalena has presented at the United Nations as part of the Australian Assembly and was recently appointed the Australian representative to the World Health Organisation, World Assembly on COVID 19, by the Medical Women's International Association (MWIA).
A/Professor Simonis was a member of the National COVID-19 Taskforce expert committee which will lead into the development of the Australian CDC.