TOPIC
"Planning Part 2 for AFMW Parallel Event to be held in conjunction with 65th UN Commission on the Status of Women" session with AFMW Council.
Start time: 4pm Qld (AEST) and 5pm Vic/NSW/Act (AEDT ) >> REGISTER Here >>
DETAILS
This session will focus on preparation and opportunity to practise your presentation to time. 
PLEASE NOTE: All AFMW members and CSW presenters welcome.
Parallel Event Programme now available.
Please be advised that the meeting will be open 20 minutes prior to the start time of 4pm / 5pm, for informal chat. All welcome to join. It would help if you could please advise prior if you are not happy to be videoed. Come along and hear about what events are on as part of this wonderful two weeks of UN Women activities held annually. Each year, 20,000 women from many many countries (150+) and many organisations sweep through and around the UN New York's building for these events.
Learn tips on how to make the most of your own AFMW (State) membership, by participating in our 2 AFMW Parallel events, and numerous other events, medical and non – medical. Ask about watching 'UN TV' (any time of the year) to see the 'Town Hall Q and A sessions' with the UN Secretary General. Speakers at this week's and next week's CSW Open Forums include those who have attended this extraordinary United Nations conference in New York in past years who will give you their highlights. Each year, 20,000 women from many organisations sweep through and around the UN building for these events.
'Save the Dates' for forthcoming CSW65 events are as follows: 
Thursday 18th March 7pm Sydney time (NSW Medical Women's Society Parallel Event) and
Saturday 20th March (3.30- 5 pm Melbourne time) for our AFMW Parallel Event.
ABOUT THE OPEN FORUMS
AFMW Open Forums are are weekly Zoom meetings hosted by AFMW to provide a platform for members and Council to come together.
All members and non-members are welcome to attend.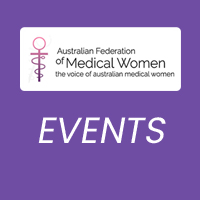 Events coordination by AFMW, on behalf of the Australian Federation of Medical Women (AFMW), its affiliated Australian state and territory partners and international networks and supporters. If you have an event you would like to share with us for Australian medical women, please contact us with details. Thank you.