There was considerable press in February about the very inappropriate and misogynistic comments from a certain Dr Lee in Victoria. AFMW wrote to both AHPRA and the hospital employing that doctor referencing the MWIA resolution about violence in medicine from the 2016 Vienna Congress. We received replies from both agencies and an AHPRA representative rang me as Secretary to discuss my letter further. Dr Lee is not returning to medicine at this point of time.
We have been trying to place an AFMW Facebook comment regularly and one was about the marches in Sydney on the first weekend in June that were calling for both decriminalisation of abortion in NSW and improved access for abortion.
We also congratulated the AMA at its National Conference in May, for getting so many important motions related to issues for women in medicine onto its agenda and then passed.
The work there was a credit  to many, but Dr Jill Tomlinson deserves our special praise because she is a valued member of AFMW and a past AFMW Councillor.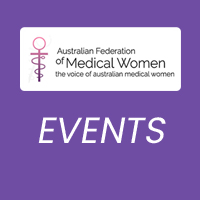 Events coordination by AFMW, on behalf of the Australian Federation of Medical Women (AFMW), its affiliated Australian state and territory partners and international networks and supporters. If you have an event you would like to share with us for Australian medical women, please contact us with details. Thank you.