As of May 14th, the ACT has 97 financial members
Since the last report to AFMW, ACT have had a large team in the Mother's Day Classic Fun Run – in fact the 3rd largest community team and raised $1500 for Breast Cancer Research. One member ran both the 10k and the 5 k runs & AFMW Councillor, Dr Mel Dorrington did a PB.
Their support for the refugees in detention centres extends to some members remaining involved with the
MERG activities of reviewing case histories to recommend further medical evacuation transfers.
They are actively collecting oral histories of our older members. State Secretary Linda Welberry is doing most of the interviews.
ACT and Region MWS are commencing a research project into addressing the management of bullying and harassment in training – along the lines of what to do if someone confides in you.
The annual Educational event was on the June 18th and Dr Helen Watchirs OAM discussed "Human Rights in ACT Adult and Youth Detention Centres".
Otherwise, plans for a fundraising event and our annual celebration of women are underway and the annual ski trip is booked and full.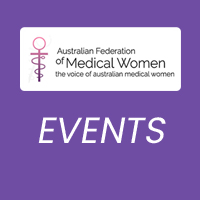 Events coordination by AFMW, on behalf of the Australian Federation of Medical Women (AFMW), its affiliated Australian state and territory partners and international networks and supporters. If you have an event you would like to share with us for Australian medical women, please contact us with details. Thank you.