Dear Colleagues.
I am starting to plan the series of discussion meetings which were proposed at the AGM.
Preferred Meeting Time Poll
At this stage, I would like to take a poll concerning preferred meeting times. Could you please submit your preference. Additionally, I am seeking expressions of interest from members interested in contributing to the discussions and hope to speak to this further at the Strategic Planning meeting.
Please complete the following:
The Planned Schedule
Week 1: January 19 th , 21 st or 22 nd
Week 2: February 9 th , 11 th or 12 th
Week 3: March 2 nd , 4 th or 5 th
Week 4: March 23 rd , 25 th or 26 th
Week 5: April 13 th , 15 th or 16 th
Restructuring Topics
As previously outlined, the topics addressed in turn will be:
Week 1 Mission Statement, Aims and Objects. Relationship to MWIA
Week 2 Membership structure and the role of the existing societies
Week 3 Financial Structure
Week 4 Governance Structure
Week 5 Rules of Incorporated Associations / Constitution / By-laws
These are outlined more fully in the AGM paper.
With Kind Regards
Dr Kate Duncan
AFMW National Coordinator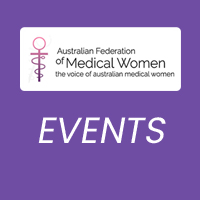 Events coordination by AFMW, on behalf of the Australian Federation of Medical Women (AFMW), its affiliated Australian state and territory partners and international networks and supporters. If you have an event you would like to share with us for Australian medical women, please contact us with details. Thank you.