Are you interested in taking a more active role in MWIA?
Here's how you can get involved:
attend the Triennial MWIA Congress
join an MWIA Committee. MWIA committees support the Executive Committee. More information is available here.
consider the role of MWIA National Coordinator on AFMW Council. This position is elected at the triennial AFMW General Meeting (next is in November 2020). Find out more about the role here.
nominate for a role on the MWIA Executive or as Western Pacific Vice President (VP). The MWIA executive is elected at each triennial MWIA Congress. The Western Pacific VP is rotated around the counties comprising the region and elected by the country whose turn it is. More information available here. 
submit a resolution to AFMW for approval to submit to MWIA. A call for resolutions is made prior to each triennial Congress. More information available here (Annex II).
follow MWIA and join the yMWIA group on Facebook
If you have any questions, please contact us by email.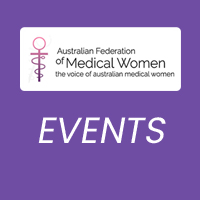 Events coordination by AFMW, on behalf of the Australian Federation of Medical Women (AFMW), its affiliated Australian state and territory partners and international networks and supporters. If you have an event you would like to share with us for Australian medical women, please contact us with details. Thank you.