The Centennial Congress of MWIA was held in New York in July 2019. More than 40 Australian medical women attended.
Five young Australian medical women were able to attend with financial support from AFMW:
Dr Melanie Dorrington (ACTMWS)
Dr Madhura Naidu (VMWS)
Dr Dana Phang (QMWS)
Dr Marissa Daniels (AFMW at large)
Here are some useful links for information about Congress:
More detail will be added as it becomes available.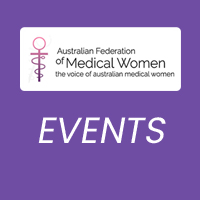 Events coordination by AFMW, on behalf of the Australian Federation of Medical Women (AFMW), its affiliated Australian state and territory partners and international networks and supporters. If you have an event you would like to share with us for Australian medical women, please contact us with details. Thank you.