Members and guests of the MWS ACT & Region enjoyed a lovely pre-Xmas catchup party on Wednesday 16th November followed by our AGM.
This event is normally held in a poolside gazebo, but an unseasonal cold-snap forced a change of venue to the spacious rooms of Dr Diana Rubel, complete with virtual fireplace!
The animated conversation over drinks and delicious nibbles was difficult to interrupt for the formal proceedings, however all present were pleased to learn that our events of the year have seen Medical Students supported, Charities Supported, and AFMW supported while providing a wonderful opportunity for camaraderie and fellowship between members, now totalling 75.
Our Executive remains largely unchanged for another year with Dr Jane Twin leading as President, Dr Linda Welberry as Secretary, Dr Kristi Bateman as Treasurer and Dr Sue Packer as Public Officer. Dr Anita Hutchinson has taken on the role of Vice-President, and we are pleased to welcome some new members to committee as well. Drs Marjorie Cross and Brenda Masters continue to represent us on AFMW Council.
We concluded by affirming our core values of supporting Medical Women during their careers and beyond which is beautifully summarised in a quote from a recent message written by our esteemed member Dr Sue Packer AO;
"AFMW is founded on ideals of supporting women in their medical careers, being sensitive to the particular ongoing challenges of being a woman practicing medicine and being at all times particularly aware of the need for sensitivity, collegiate support, and a dominant focus on achieving win/win outcomes in any conflict…"
Dr Brenda Masters
MWS ACT & Region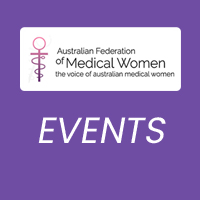 The Australian Federation of Medical Women (AFMW) is a not for profit, politically neutral, non sectarian, non government organisation that seeks to improve the health of all Australians, especially the health of women and children.
Events and Updates coordination by AFMW, on behalf of the Australian Federation of Medical Women (AFMW), its affiliated Australian state and territory partners and international networks and supporters. If you have an update or event you would like to share with us for Australian medical women, please contact us with details. Thank you.