AFMW is a proud ongoing supporter of NAIDOC Week which recognises and celebrates the history, culture and achievements of Aboriginal and Torres Strait Islander people.
The NAIDOC theme for 2023 is For Our Elders. This theme recognises that across every generation, Elders have played, and continue to play, an important role and hold a prominent place in our communities and families. They are cultural knowledge holders, trailblazers, nurturers, advocates, teachers, survivors, leaders, hard workers and our loved ones.
The AFMW members are encouraged to celebrate NAIDOC Week through participation in local activities and events from 2-9 July 2023.
AFMW celebrates NAIDOC Week by awarding their annual AFMW Purple Bush Medicine Leaves Bursaries to Aboriginal and Torres Strait Islander women in medicine. We're excited about the announcement of this year's bursary recipients. Previous bursary winner, Dr Sarah-Jane Springer (formerly Dr Sarah McEwan) acknowledges the AFMW bursary in this RACGP article.
Dr Marjorie Cross, OAM
AFMW Council member
AFMW representative for ACT and Region MWS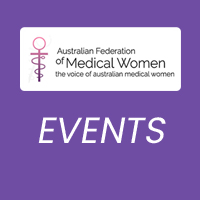 The Australian Federation of Medical Women (AFMW) is a not for profit, politically neutral, non sectarian, non government organisation that seeks to improve the health of all Australians, especially the health of women and children.
Events and Updates coordination by AFMW, on behalf of the Australian Federation of Medical Women (AFMW), its affiliated Australian state and territory partners and international networks and supporters. If you have an update or event you would like to share with us for Australian medical women, please contact us with details. Thank you.