30/01/1935 to 24/08/2023
Dr Elizabeth Lewis, who passed away on 24th August, had a long and outstanding career in Medicine. Among her many and varied achievements was the distinction of having been the first female neurosurgeon to practise in Australia. Dr Lewis first trained in general surgery at the Queen Victoria Hospital and in the UK, then finished further neurosurgical training in Cambridge in 1972.
Dr Lewis held senior appointments as Head of Neurosurgery at the Queen Victoria Medical Centre and at the Royal Children's Hospital building an active career which lasted 30 years. Alongside her surgical career, she took an active part in teaching and training. She served with MDAV and Avant as a Medical Advisor and Board Member and as a member on Medical Panels.
Dr Lewis regularly visited Papua Niugini helping to establish medical and surgical services. Following the devastating tsunami in 1998 in which over 2000 people died, she led a group of doctors to accompany the Australian Army disaster relief deployment.
Dr Elizabeth Lewis is remembered with deep respect and love as a caring and expert surgeon, a teacher, a mentor, a colleague and a friend.
Dr Kate Duncan AM
Dr Lewis' children posted this poem, shared here:
There is no controlling life.
Try corralling a lightning bolt,
Containing a tornado.
Dam a stream and it will create a new channel.
Resist and the tide will sweep you off your feet.
Allow, and grace will carry you to higher ground.
The only safety lies in letting it all in –
the wild and the weak;
fear, fantasies, failures, and success.
When loss rips off the doors of the heart, or sadness veils your vision with despair,
practice becomes simply bearing the truth.
In the choice to let go of your known way of being,
the whole world is revealed to your new eyes.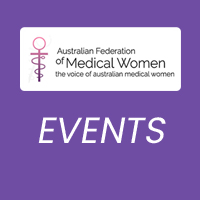 The Australian Federation of Medical Women (AFMW) is a not for profit, politically neutral, non sectarian, non government organisation that seeks to improve the health of all Australians, especially the health of women and children.
Events and Updates coordination by AFMW, on behalf of the Australian Federation of Medical Women (AFMW), its affiliated Australian state and territory partners and international networks and supporters. If you have an update or event you would like to share with us for Australian medical women, please contact us with details. Thank you.