It has been an inspiration and a privilege to join with an Australian delegation of 44 remarkable Medical Women and Students led by Professor Gabrielle Casper, to attend the United Nations 63rdSession of Commission on the Status of Women (CSW63), New York in March 2019.
The current Australian Federation of Medical Women (AFMW) Executive was well represented within this group, including A/Prof Deb Colville (President AFMW), myself, Dr Lydia Pitcher (Vice-President AFMW), and Dr Naseera Naeem (President, Supporting Women in Medicine or SWIM, UQ). We travelled together with Prof Casper, 23 students from The University of Notre Dame, Sydney, as well as 10 senior representatives from other NGOs, the legal fraternity and Liz Broderick's Male Champions of Change. Unlike most of the group, Deb, Naseera and I were afforded the special privilege of access to venues and events within the inner sanctum of the United Nations, through our AFMW NGO Ground Passes.
The knowledge and experience of Professor Casper, as Past President of the Medical Women's International Association (MWIA) and AFMW, and having attended CSW for more than two decades, ensured a packed programme that made the very most of our time. She had organised events and introductions to key stakeholders for Women's issues in Australia as well as within the international community of Medical Women. Highlights included the orientation with the NGO CSW/NY Consultation Day, the reception at the Australian Consulate-General, New York, with Hon Kelly O'Dwyer MP, a private 2-hour session with personal insights from UNICEFstaff,  listening to the submissions of nations in the General Assembly Hall (whilst learning a lot of geography), meetings with MWIA representatives (including Secretary, Dr Shelley Ross, President-elects MWIA Dr Clarissa Fabre and Dr Eleanor Nwadinobi), meeting with Dr Jillann Farmer, Medical Director of the UN, and attending a multitude of Parallel sessions and Side Events from the NGOs. By the end of the week, we had mastered at least some of the important acronyms (including ECOSOC, BPfA, SDGs, GRs, CEDAW, and UNDofGC)!
Obtaining our CSW63 Registration and Ground Passes to the United Nations were significant hurdles that will become less daunting with regular AFMW representation at CSW. Thanks to A/Prof Deb Colville and our new Secretariat (Kelly Bainbridge) for their persistence in achieving these feats, along with the assistance of Prof Casper and Dr Marissa Daniels, who have attended previously. We now have a number of documents, including Prof Casper's detailed instructions, an AFMW Guideline, and our own tips and recommendations from this trip, to streamline this process for future attendees.
The Medical Students from Notre Dame presented their research and posters, all on topics relevant to the CSW theme, to a number of audiences throughout the trip. They were a credit to Prof Casper, and their University. There is no doubt that this experience will have an enormous impact on the rest of their careers.
Our vision is that this event will become as relevant to all our members, and an important annual feature of the AFMW Calendar. We hope to build on the experience of Prof Casper within the AFMW Executive, to bring more Medical Women to this important annual international Women's forum, and realise the full value of AFMW's NGO status.
Our priority is now to organise our very own inaugural AFMW Parallel Event at CSW in future. Next year the CSW64will recognise the 25thanniversary of theBeijing Platform for Action (BPfA, 1995). It would be a great year for AFMW to realise this aspiration! And we already have excellent representation at the MWIA Centennial in New York in July, to facilitate this ideal.
Please let us know if you would like to join us in 2020!
Dr Lydia Pitcher
Vice President AFMW (2018-19)
Immediate Past President QMWS (2016-19)
[/tatsu_text][/tatsu_column][/tatsu_row][/tatsu_section]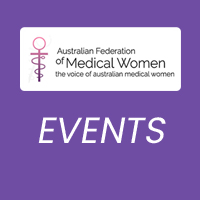 Events coordination by AFMW, on behalf of the Australian Federation of Medical Women (AFMW), its affiliated Australian state and territory partners and international networks and supporters. If you have an event you would like to share with us for Australian medical women, please contact us with details. Thank you.