Dr Magdalena Simonis, AFMW President has been invited to join the The Climate and Health Alliance, Doctors for the Environment Australia, Australasian College for Emergency Medicine, Australian Healthcare and Hospitals Association, and New South Wales Nurses and Midwives' Association — as the Better Futures Australia Health Sector Working Group. 
---
About
The online Roundtable is an invitation-only event with senior leaders from health and medical organisations professional and industrial associations, healthcare service providers, clinicians, academics and researchers
The Climate and Health Roundtable will showcase the leadership and ambition of the health sector in taking climate action and I will be incorporating the AFMW lens.
This Roundtable is very significant in that it is being held as part of the Better Futures Australia initiative, which brings together climate champions from all corners of society and the economy to drive climate ambition and share a message of hope for better futures for us all. Over 27-29 July, the national Better Futures Forum will provide the number one platform for Australian organisations, businesses, and other leaders to publicly express their commitment to more ambitious climate action.
As a member of the Health Working Group, our focus is on ways health stakeholders can build momentum for climate action in the lead up to the international climate negotiations (
UNFCCC 26th Conference of the Parties, COP26
) in Glasgow this November, as well as to celebrate climate work already underway across the health sector.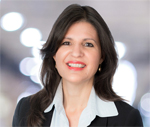 Magdalena is the President of the AFMW (2020-) and former President of VMWS (2013 & 2017-2020), National Coordinator AFMW, MWIA Scientific and Research Subcommittee co-Chair, MWIA Mentoring and Leadership, Special Interest Group, Chair
Magdalena's deep engagements with the RACGP over many years includes chair of Women in General Practice, is currently on the RACGP Expert Committee Quality Care, prior to that on RACGP eHealth Expert Committee. She is a regular media spokesperson on numerous health issues, being interviewed most weeks by mainstream and medical media. Magdalena has represented the RACGP at senate enquiries and has worked on several National Health Framework reviews.
Both an RACGP examiner and University examiner she supervises medical students and undertakes general practice research. Roles outside of RACGP include the Strategy and Policy Committee for Breast Cancer Network Australia, Board Director of Women's Health Victoria and Chair of their Strategy and Policy subcommittee and the AMA Victoria GP Network Committee.
Magdalena has presented at the United Nations as part of the Australian Assembly and was recently appointed the Australian representative to the World Health Organisation, World Assembly on COVID 19, by the Medical Women's International Association (MWIA).
A/Professor Simonis is currently a member of the National COVID-19 Taskforce expert committee, and Chair of the MWIA Mentoring and Leadership Special Interest Group.