I had the pleasure of attending the Better Futures Australia Roundtable on 19th April, along with a host of other organisations as part of the Climate Health Alliance.
It's clear that there is an urgent need for greater action on climate change to protect health. An Open Letter to Prime Minister Scott Morrison was drafted and shared, outlines three key actions that the Federal Government must take to promote positive health and environmental outcomes.
The three requests include:
1. Prioritise health in the context of Australia's Nationally Determined Contribution to the Paris Agreement
2. Commit to the decarbonisation of the healthcare sector by 2040, and to the establishment of an Australian Sustainable Healthcare Unit
3. Implement a National Strategy on Climate, Health and Wellbeing for Australia
Call To Action
Better Futures Australia and the Climate Health Alliance are now calling for all health organisations to write to Prime Minister Scott Morrison requesting the same. I invite you as individuals to issue a letter to this effect with your signature also. Deadline for the submission is 28th April 2021.
Here is a copy of the letter for you to use (Better Futures Australia PM Scott Morrison MP download as a MS Word document):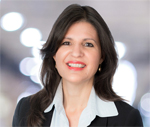 Magdalena is the President of the AFMW (2020-) and former President of VMWS (2013 & 2017-2020), National Coordinator AFMW, MWIA Scientific and Research Subcommittee co-Chair, MWIA Mentoring and Leadership, Special Interest Group, Chair
Magdalena's deep engagements with the RACGP over many years includes chair of Women in General Practice, is currently on the RACGP Expert Committee Quality Care, prior to that on RACGP eHealth Expert Committee. She is a regular media spokesperson on numerous health issues, being interviewed most weeks by mainstream and medical media. Magdalena has represented the RACGP at senate enquiries and has worked on several National Health Framework reviews.
Both an RACGP examiner and University examiner she supervises medical students and undertakes general practice research. Roles outside of RACGP include the Strategy and Policy Committee for Breast Cancer Network Australia, Board Director of Women's Health Victoria and Chair of their Strategy and Policy subcommittee and the AMA Victoria GP Network Committee.
Magdalena has presented at the United Nations as part of the Australian Assembly and was recently appointed the Australian representative to the World Health Organisation, World Assembly on COVID 19, by the Medical Women's International Association (MWIA).
A/Professor Simonis is currently a member of the National COVID-19 Taskforce expert committee, and Chair of the MWIA Mentoring and Leadership Special Interest Group.