AFMW is currently calling for applications for Shadow Treasurer and Shadow Secretary. This is a great opportunity to gain experience in the management of an Australian charity. It is ideally suited to anyone considering nominating for a Council position in the 2020 elections.
Eligibility:
– AFMW membership
Application Process:
– Please include what you bring to the position, what you hope to gain, and how this will help AFMW achieve our aims.
– Applications close Sunday, January 5.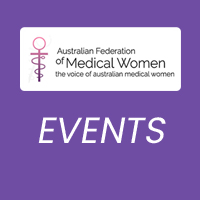 Events coordination by AFMW, on behalf of the Australian Federation of Medical Women (AFMW), its affiliated Australian state and territory partners and international networks and supporters. If you have an event you would like to share with us for Australian medical women, please contact us with details. Thank you.