The position of Direct AFMW Member Representative is currently vacant.
Eligibility:
– Direct AFMW Members. These are doctor members of AFMW who join directly, without joining a state Medical Women's Society (the state medical women's societies are QMWS, VMWS, ACT and Region MWS and NSW MWS).
Application Process:
– Please email your CV and cover letter to AFMW Secretary, Dr Marjorie Cross
– Please include what you will bring to the role, what you hope to learn, and how this will help achieve the aims of AFMW.
Applications close January 5.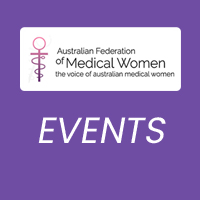 Events coordination by AFMW, on behalf of the Australian Federation of Medical Women (AFMW), its affiliated Australian state and territory partners and international networks and supporters. If you have an event you would like to share with us for Australian medical women, please contact us with details. Thank you.