The Governance Committee is responsible for advising Council on our processes for making and implementing decisions to ensure we meet our legal and ethical obligations.
AFMW is reviewing and revising our Constitution. Therefore, we invite applications, especially from young AFMW members (those < 40 yrs or < 7 yrs since graduation from medical school) to be part of the team implementing this review and revision.
This is a fantastic opportunity to gain insight into the legal requirements of an Australian charity.
Eligibility:
– student or doctor with AFMW membership (direct or through a state medical women's society)
Application Process:
– Please include what you bring to the position, what you hope to gain, and how this will help AFMW achieve our aims.
– Applications close Sunday, January 5.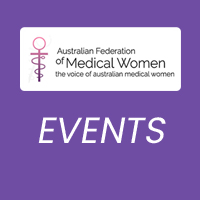 Events coordination by AFMW, on behalf of the Australian Federation of Medical Women (AFMW), its affiliated Australian state and territory partners and international networks and supporters. If you have an event you would like to share with us for Australian medical women, please contact us with details. Thank you.