AFMW extends hearty congratulations to Dr Ashna Basu for being the recipient of the AMA Women's Health Award at this year's AMA National Conference in Sydney.
AMA Women's Health Award
A Sydney psychiatry trainee doctor, who helps patients 'feel more like themselves' during health crises, has won the AMA's 2022 Women's Health Award. Dr Ashna Basu received the award from outgoing AMA President Dr Omar Khorshid, for her passion and dedication to gender equity, mental health, and the social determinants of health.
"I can hardly believe it's real, but on Friday night, at the Australian Medical Association's National Conference in Sydney, I was awarded the 2022 Women's Health Award. It's a privilege to work towards transforming medicine into a more inclusive space for all our patients and staff. I'm indebted to my loved ones and colleagues for their unwavering support, and of course the AMA community – of which I have now been a part for 10 years!
Dr Ashna Basu
Congratulations from the AFMW!
Dr Magdalena Simonis
Australian Federation of Medical Women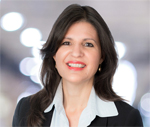 Magdalena is the President of the AFMW (2020-) and former President of VMWS (2013 & 2017-2020), National Coordinator AFMW, MWIA Scientific and Research Subcommittee co-Chair, MWIA Mentoring and Leadership, Special Interest Group, Chair
Magdalena's deep engagements with the RACGP over many years includes chair of Women in General Practice, is currently on the RACGP Expert Committee Quality Care, prior to that on RACGP eHealth Expert Committee. She is a regular media spokesperson on numerous health issues, being interviewed most weeks by mainstream and medical media. Magdalena has represented the RACGP at senate enquiries and has worked on several National Health Framework reviews.
Both an RACGP examiner and University examiner she supervises medical students and undertakes general practice research. Roles outside of RACGP include the Strategy and Policy Committee for Breast Cancer Network Australia, Board Director of Women's Health Victoria and Chair of their Strategy and Policy subcommittee and the AMA Victoria GP Network Committee.
Magdalena has presented at the United Nations as part of the Australian Assembly and was recently appointed the Australian representative to the World Health Organisation, World Assembly on COVID 19, by the Medical Women's International Association (MWIA).
A/Professor Simonis is currently a member of the National COVID-19 Taskforce expert committee, and Chair of the MWIA Mentoring and Leadership Special Interest Group.