Proud to be invited to mentor a group of Digital Health leaders again  this year alongside an auspicious team of women. This includes a team of Executive Coaches and Facilitators. Natalie Collard and Eimer Boyle and our mentors Wendy Chapman, Dr. Jen Beer GAICD, Ruth De Souza, Janine Cox, Patricia Liebke  in 2023!
About The Program
The WiDH Leadership program is a 6-month blended learning program supporting your development as a leader in digital health. The program ensures you have the confidence to know you can, competency to know how to, and connections to succeed in the real world.
The program is open for up to 25 select women, running from 28 February – 30 August 2023.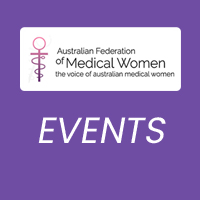 The Australian Federation of Medical Women (AFMW) is a not for profit, politically neutral, non sectarian, non government organisation that seeks to improve the health of all Australians, especially the health of women and children.
Events and Updates coordination by AFMW, on behalf of the Australian Federation of Medical Women (AFMW), its affiliated Australian state and territory partners and international networks and supporters. If you have an update or event you would like to share with us for Australian medical women, please contact us with details. Thank you.