Ovarian Cancer is a most dreaded diagnosis and doctors as well as women who receive this news know,  that survivorship is very low.
My input was sought by The Royal Australian College of General Practitioners (RACGP) on this recent Australian study around the relatively good news, that low dose aspirin and other common non-steroidal anti-inflammatory drugs (NSAIDs), can provide some increase in life span and even delay recurrence. More research is required to understand how this might be integrated into cancer management in the community but this study gives some hope.
Assoc/Prof Simonis
---
RACGP Article – 'Cancer survivorship and aspirin use: Is there a link?'
Latest Australian data builds on previous studies suggesting NSAID use may improve ovarian cancer survival, but more research is needed.
New Australian research has linked regular use of non-steroidal anti-inflammatory drugs (NSAIDs), including aspirin, with increased survival rates of ovarian cancer.
While use of the common over-the-counter medication had already been associated with reduced ovarian cancer risk, with a recently published US study finding that frequent use was associated with a 13% reduction, the latest paper has provided more evidence for its use.
The Australian Ovarian cancer Prognosis And Lifestyle (OPAL) study is a national prospective cohort of women aged 21–79 years who were diagnosed with 'histologically confirmed' ovarian, primary peritoneal, or fallopian tube cancer from 2012–15.
Its latest findings, published in the Journal of the National Cancer Institute assessed the link between use of common NSAIDs, including regular and low-dose aspirin, and five-year cancer-specific survival after a diagnosis of ovarian cancer.
The study measured survival from either the start of, or 12 months into, treatment until the patient's five-year follow up, or until they died from ovarian cancer. NSAID use was monitored during the year of pre-diagnosis and post-diagnosis and marked as:
'none or occasional' – less than one day per week
'infrequent' – 1–3 days per week
'frequent' – four or more days per week.
Increased survival rates were found among the 'frequent' NSAID users during pre- and post-diagnosis, compared with non-users and infrequent users, with estimates similar for aspirin and non-aspirin NSAIDs, and new and continuous users.
The association was stronger for post-diagnosis NSAID use, identifying an approximate 35% improvement in survival associated with any use, and even stronger for frequent users.
The survival difference between frequent and non-users or infrequent users translates to an increase of 2.5 months in 'mean survival' by five years post-diagnosis.
According to the study's lead author Azam Majidi, while 2.5 months may appear like 'a small amount of time', for ovarian cancer survival an increase of 'even one week or one month' in survival is 'huge'.
'Considering the fact that [aspirin] is a very cheap medication and it's been used in public for years and it's safe … I think if it really gives improved survival like that, it's a huge discovery,' she told the ABC.
GP and women's health expert Associate Professor Magdalena Simonis told newsGP the findings regarding extended lifespan by NSAID use, both in recently diagnosed and pre-diagnosed women with ovarian cancer, makes for 'quite an interesting' study.
'It seems rather convincing and unlikely to be due to reverse causality,' she said.
'As ovarian cancer has a low five-year survival rate, is difficult to diagnose, and often presents with late-stage disease, any possible extension of lifespan or delay in recurrence is of benefit to cancer sufferers.'
Ovarian cancer is estimated to have been responsible for 1016 female deaths in 2022, with new diagnoses of the cancer estimated to be 1815 during the same year.
Survival rates increase the earlier the cancer is detected, with diagnosis at Stage 1 having a survival rate of over 90%. But approximately 70% of all ovarian cancer cases in Australia are diagnosed in advanced stages (3 or 4), contributing to the low overall survival rate. Once diagnosed with ovarian cancer, there is a 48% chance of surviving more than five years.
Associate Professor Simonis says the GP's role in managing cancer 'of all kinds' is key and that, pending further research, NSAIDs could be considered in some cases.
'The benefit for GPs of prescribing NSAIDs is that where there is often nothing we can offer which provides some comfort to patients with this difficult diagnosis, we can confidently provide this as a simple recommendation which is of some benefit,' she said.
'The benefits of prescribing NSAIDs, especially low-dose aspirin, is that they are accessible, affordable and provide pain relief for mild-to-moderate symptoms.'
However, Associate Professor Simonis also cautions on some risks of NSAIDs, which may include exacerbating reflux oesophagitis, raising blood pressure, or interactions with other medications in patients with comorbidities such as hypertension and reflux oesophagitis.
'[Therefore,] it is important to continue monitoring patients for any evidence of this and advise and manage accordingly,' she said.
The next step of the OPAL study is to conduct a randomised clinical trial which would begin with women who are not using NSAIDs, given the current study comprises women already using these medications for a reason such as a heart condition.
The authors also note that more investigations are needed into whether aspirin and other NSAIDs should be recommended for cancer patients.
A well-documented example can be taken from the landmark ASPREE study – which examines the impacts of aspirin use among older people, finding that often the harms outweigh the benefits, leading to 'a strong safety concern' related to prolonged use of aspirin as a primary preventive measure against heart disease or stroke among otherwise healthy people aged 70 years and older.
For older people with cancer, aspirin use can have an adverse effect on later stages of cancer evolution, also suggesting caution with its use for this age group.
The OPAL authors conclude that while their results are consistent with other data suggesting a possible survival benefit associated with post-diagnosis NSAID use among people with ovarian cancer, further research should be considered to examine whether any potential benefit might be restricted to subsets of patients.
Source article and photo credit: RACGP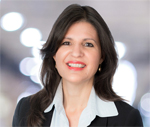 Associate Professor Magdalena Simonis AM is the President of the AFMW (2020-) and former President of VMWS (2013 & 2017-2020). She is a full time clinician who also holds positions on several not for profit organisations, driven by her passion for bridging gaps across the health sector. She is a leading women's health expert, keynote speaker, climate change and gender equity advocate and government advisor.
Magdalena was awarded a lifetime membership of the RACGP for her contributions which include past chair of Women in General Practice, longstanding contribution to the RACGP Expert Committee Quality Care, the RACGP eHealth Expert Committee. She is regularly invited to comment on primary care research though mainstream and medical media and contributes articles on various health issues through newsGP and other publications.
Magdalena has represented the RACGP at senate enquiries and has worked on several National Health Framework reviews. She is author of the RACGP Guide on Female Genital Cosmetic Surgery and co-reviewer of the RACGP Red Book Women's Health Chapter, and reviewer of the RACGP White book
Both an RACGP examiner and University examiner, she undertakes general practice research and is a GP Educator with the Safer Families Centre of Research Excellence, which develops education tools to assist the primary care sector identify, respond to and manage family violence . Roles outside of RACGP include the Strategy and Policy Committee for Breast Cancer Network Australia, Board Director of the Melbourne University Teaching Health Clinics and the elected GP representative to the AMA Federal Council. In 2022. she was award the AMA (Vic) Patrick Pritzwald-Steggman Award 2022, which celebrates a doctor who has made an exceptional contribution to the wellbeing of their colleagues and the community and was listed as Women's Agenda 2022 finalist for Emerging Leader in Health.
Magdalena has presented at the United Nations as part of the Australian Assembly and was appointed the Australian representative to the World Health Organisation, World Assembly on COVID 19, by the Medical Women's International Association (MWIA) in 2021. In 2023, A/Professor Simonis was included on the King's COVID-19 Champion's list and was also awarded a Member (AM) in the General Division for significant service to medicine through a range of roles and to women's health.