Originally published at The Lancet, this report investigates the deepening inequities in a warming world and how an inequitable response fails everyone.
---
The Lancet Countdown is an international collaboration that independently monitors the health consequences of a changing climate. Publishing updated, new, and improved indicators each year, the Lancet Countdown represents the consensus of leading researchers from 43 academic institutions and UN agencies. The 44 indicators of this report expose an unabated rise in the health impacts of climate change and the current health consequences of the delayed and inconsistent response of countries around the globe—providing a clear imperative for accelerated action that puts the health of people and planet above all else.
The 2021 report coincides with the UN Framework Convention on Climate Change 26th Conference of the Parties (COP26), at which countries are facing pressure to realise the ambition of the Paris Agreement to keep the global average temperature rise to 1·5°C and to mobilise the financial resources required for all countries to have an effective climate response. These negotiations unfold in the context of the COVID-19 pandemic—a global health crisis that has claimed millions of lives, affected livelihoods and communities around the globe, and exposed deep fissures and
inequities in the world's capacity to cope with, and respond to, health emergencies. Yet, in its response to both crises, the world is faced with an unprecedented opportunity to ensure a healthy future for all.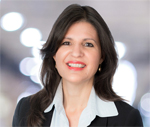 Magdalena is the President of the AFMW (2020-) and former President of VMWS (2013 & 2017-2020), National Coordinator AFMW, MWIA Scientific and Research Subcommittee co-Chair, MWIA Mentoring and Leadership, Special Interest Group, Chair
Magdalena's deep engagements with the RACGP over many years includes chair of Women in General Practice, is currently on the RACGP Expert Committee Quality Care, prior to that on RACGP eHealth Expert Committee. She is a regular media spokesperson on numerous health issues, being interviewed most weeks by mainstream and medical media. Magdalena has represented the RACGP at senate enquiries and has worked on several National Health Framework reviews.
Both an RACGP examiner and University examiner she supervises medical students and undertakes general practice research. Roles outside of RACGP include the Strategy and Policy Committee for Breast Cancer Network Australia, Board Director of Women's Health Victoria and Chair of their Strategy and Policy subcommittee and the AMA Victoria GP Network Committee.
Magdalena has presented at the United Nations as part of the Australian Assembly and was recently appointed the Australian representative to the World Health Organisation, World Assembly on COVID 19, by the Medical Women's International Association (MWIA).
A/Professor Simonis is currently a member of the National COVID-19 Taskforce expert committee, and Chair of the MWIA Mentoring and Leadership Special Interest Group.