In this article, originally published by RACGP,  I talk about the complex factors contributing to declining rates of fertility, and how GPs can help patients conceive. I recognise that not all patients may be aware of the key lifestyle factors that can reduce chances of falling pregnant.
———————-
The World Health Organization predicts that infertility will become the third most serious medical condition in the 21st century after cancer and cardiovascular disease.
At the recent Asia Pacific Initiative on Reproduction (ASPIRE) congress, guest speaker and international health sector analyst Ivy Teh discussed the many complex factors contributing to declining rates of fertility, including trying for children later in life, growing urbanisation and associated stress levels, work pressures and environmental conditions.
'If trends do not change, the economic impact and social strain will be immense,' Ms Teh said.
'A severely diminishing workforce and family stress will increase as younger generations face challenges to support a larger number of retirees.'
Dr Magdalena Simonis, a GP with a special interest in reproductive health, believes that as the first port of call, GPs are well placed to provide pre-conception education, as well as assessment and management of reproduction and fertility issues.
'GPs can help couples and individuals seeking to conceive by educating them around modifiable factors that can be altered,' she told newsGP.
She recommends initial screening for all patients in order to assess lifestyle risks and history.
'A fundamental aspect to this discussion [around conception] includes taking a good coital history and performing a genital examination and sexual infection screening [where there may be issues conceiving].
'It is also a time for the GP to enquire about genetic disorders in the family history and offer genetic screening of at least one partner prior to conception.'
Dr Simonis cites key modifiable factors include age, smoking, alcohol consumption, obesity, poor diet, and environmental and occupational exposure to toxins that alter egg viability and sperm production.
However, patients may not always be aware of these factors as conception barriers – obesity is a common example.
'Studies show that the general public has low knowledge regarding modifiable health factors affecting fertility,' Dr Simonis said.
'Obesity can result in increased insulin resistance … obesity or a high body mass index has a negative impact on fertility in women by reducing their ovulation cycles, and in males by producing poorer quality sperm.'
Aside from lifestyle, there are other key factors contributing to infertility, according to Dr Simonis. These include the timing of intercourse and age, for which she highlights adequate education is important for women and men.
'Most people consider pre-conception health as a purely female issue, which it is not,' Dr Simonis said.
'Some key factors are related to female issues and others to male issues.
'The causes of infertility are not equally shared between females and males. For women, the optimal window of opportunity steadily declines after the age of 35, and after 40 in men, but age does not affect male fertility as profoundly as it does in women.'
In addition to age, understanding the ovulation pattern and the significance of the timing of intercourse is a catalyst for successful conception.
'[People wanting to conceive should] time intercourse before ovulation occurs, not after,' Dr Simonis said.
'The chances of successful conception occurring are at ovulation at 33% … for the days prior to ovulation the statistics are at 31%, 27% 14%, and steadily lower.'
Chances of conceiving after ovulation are also low.
Dr Simonis encourages GPs to incorporate routine health checks in pre-conception and post-conception health, including modifiable and non-modifiable lifestyle factors.
'The GP can talk about reproductive health in terms of lifestyle changes that promote ovulation, healthier babies and healthier sperm,' she said.
'The focus of the consultation could be health education, with the positive flow-on effect of conception, health of the egg and sperm and providing optimal conditions for the developing fetus by encouraging smoking cessation, reduction of alcohol intake, cessation in women, folic acid and iodine supplements, and prevention of occupational chemical risk exposure.'
Educating patients about healthy lifestyle is part of the GP's role in leading preventive healthcare, and with more of this education Dr Simonis foresees the benefits leading to optimal wellbeing of the parent or parents, successful conception, and a healthy pregnancy.
'It is important to remember that a large number of pregnancies are also unplanned and education provides women with contraceptive options that empower them to make decisions around spacing of children and timing of conception,' she said.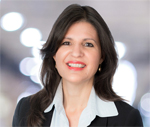 Magdalena is the President of the AFMW (2020-) and former President of VMWS (2013 & 2017-2020), National Coordinator AFMW, MWIA Scientific and Research Subcommittee co-Chair, MWIA Mentoring and Leadership, Special Interest Group, Chair
Magdalena's deep engagements with the RACGP over many years includes chair of Women in General Practice, is currently on the RACGP Expert Committee Quality Care, prior to that on RACGP eHealth Expert Committee. She is a regular media spokesperson on numerous health issues, being interviewed most weeks by mainstream and medical media. Magdalena has represented the RACGP at senate enquiries and has worked on several National Health Framework reviews.
Both an RACGP examiner and University examiner she supervises medical students and undertakes general practice research. Roles outside of RACGP include the Strategy and Policy Committee for Breast Cancer Network Australia, Board Director of Women's Health Victoria and Chair of their Strategy and Policy subcommittee and the AMA Victoria GP Network Committee.
Magdalena has presented at the United Nations as part of the Australian Assembly and was recently appointed the Australian representative to the World Health Organisation, World Assembly on COVID 19, by the Medical Women's International Association (MWIA).
A/Professor Simonis is currently a member of the National COVID-19 Taskforce expert committee, and Chair of the MWIA Mentoring and Leadership Special Interest Group.