As part of the Strategic Plan in November 2020, I instigated a Medical Women in Technology and Health ( MedWiTH) group.
The Technology Health (Digital Health) industry is THE FASTEST GROWING industry in medicine and intersects with many sectors and industries.
Women doctors are not as engaged as we should be and if we don't become active in this space, another huge gender divide will emerge.
Talking Health Podcast
In this "Taking Health" podcast I discuss the career opportunities and challenges that exist for women within the healthcare and technology space.
I hope you enjoy the podcast – runs for 20 minutes. You can listen here: www.talkinghealthtech.com/podcast/179-medical-women-in-technology-and-health-dr-magdalena-simonis
MedWiTH Open Forum 14 Oct
As a reminder, I look forward to seeing you at the MedWiTH Open Forum session on October 14th with Dr Louise Schaper CEO OF Australasian Institute for Digital Health & Dr Amandeep Hansra from Creative Careers.
I extend an invitation to all members and yAFMW especially to be active and involved and join us.
Kind regards,
Magdalena Simonis
President & National Coordinator AFMW
Chair, MedWiTH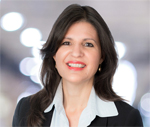 Magdalena is the President of the AFMW (2020-) and former President of VMWS (2013 & 2017-2020), National Coordinator AFMW, MWIA Scientific and Research Subcommittee co-Chair, MWIA Mentoring and Leadership, Special Interest Group, Chair
Magdalena's deep engagements with the RACGP over many years includes chair of Women in General Practice, is currently on the RACGP Expert Committee Quality Care, prior to that on RACGP eHealth Expert Committee. She is a regular media spokesperson on numerous health issues, being interviewed most weeks by mainstream and medical media. Magdalena has represented the RACGP at senate enquiries and has worked on several National Health Framework reviews.
Both an RACGP examiner and University examiner she supervises medical students and undertakes general practice research. Roles outside of RACGP include the Strategy and Policy Committee for Breast Cancer Network Australia, Board Director of Women's Health Victoria and Chair of their Strategy and Policy subcommittee and the AMA Victoria GP Network Committee.
Magdalena has presented at the United Nations as part of the Australian Assembly and was recently appointed the Australian representative to the World Health Organisation, World Assembly on COVID 19, by the Medical Women's International Association (MWIA).
A/Professor Simonis is currently a member of the National COVID-19 Taskforce expert committee, and Chair of the MWIA Mentoring and Leadership Special Interest Group.