A/Prof Vicki Kotsirilos highlights Herstory in MJA Insight.
Our mentoring compilation is about giving and sharing to support others whilst also building an historically significant chapter told through lived experience of medical women. More contributions from you are welcome so that this chapter grows and builds our AFMW story and legacy!
I REFLECT upon my own mentors from early childhood days into adulthood and recognise the influence they had in shaping my confidence, passion, growth, and inner strengths.


My earliest experience of mentorship was in high school Year 8 [then Form 2] about 46 years ago, when I passionately wrote an essay on the harms of dams on rivers to the local ecosystems. My English was exceptionally poor, averaging a D [E was a failure] for most assignments. My migrant parents barely spoke English and I did not start reading properly till high school.





Fortunately, my science teacher was able to see beyond my multiple grammar errors and appreciate the content of my inner passion and thoughts. He returned my essay on dams back to me with corrections of red marks all over it; but somehow, I managed to score an A-. He smiled at me and said, "great work, just watch your grammar". This was my first score ever of an A for an assignment. Literally overnight, I developed a love for science — my science teacher became my first mentor — and subsequently my journey into medicine.

A/Prof Vicki Kotsirilos
Read the full InSight+ article.
Magdalena Simonis
Herstory Founder
AFMW President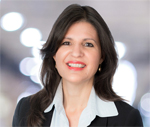 Associate Professor Magdalena Simonis AM is the President of the AFMW (2020-) and former President of VMWS (2013 & 2017-2020). She is a full time clinician who also holds positions on several not for profit organisations, driven by her passion for bridging gaps across the health sector. She is a leading women's health expert, keynote speaker, climate change and gender equity advocate and government advisor.
Magdalena was awarded a lifetime membership of the RACGP for her contributions which include past chair of Women in General Practice, longstanding contribution to the RACGP Expert Committee Quality Care, the RACGP eHealth Expert Committee. She is regularly invited to comment on primary care research though mainstream and medical media and contributes articles on various health issues through newsGP and other publications.
Magdalena has represented the RACGP at senate enquiries and has worked on several National Health Framework reviews. She is author of the RACGP Guide on Female Genital Cosmetic Surgery and co-reviewer of the RACGP Red Book Women's Health Chapter, and reviewer of the RACGP White book
Both an RACGP examiner and University examiner, she undertakes general practice research and is a GP Educator with the Safer Families Centre of Research Excellence, which develops education tools to assist the primary care sector identify, respond to and manage family violence . Roles outside of RACGP include the Strategy and Policy Committee for Breast Cancer Network Australia, Board Director of the Melbourne University Teaching Health Clinics and the elected GP representative to the AMA Federal Council. In 2022. she was award the AMA (Vic) Patrick Pritzwald-Steggman Award 2022, which celebrates a doctor who has made an exceptional contribution to the wellbeing of their colleagues and the community and was listed as Women's Agenda 2022 finalist for Emerging Leader in Health.
Magdalena has presented at the United Nations as part of the Australian Assembly and was appointed the Australian representative to the World Health Organisation, World Assembly on COVID 19, by the Medical Women's International Association (MWIA) in 2021. In 2023, A/Professor Simonis was included on the King's COVID-19 Champion's list and was also awarded a Member (AM) in the General Division for significant service to medicine through a range of roles and to women's health.