The good news is that it appears that there is still some protection against severe disease and hospitalisation afforded from vaccination with two doses of Astra Zeneca and Pfizer although the protection from two doses of these vaccines, is limited. Cases are expected to climb so a third booster dose is highly recommended and ideally, earlier than the 6 month mark as previously planned. Last week ATAGI reduced the minimum gap between primary vaccination and booster doses to five months.
A booster is likely to significantly increase protection against symptoms and severe disease.  The paper acknowledges that there is limited current data and 'a lack of understanding of baseline severity with Omicron'.
Associate Professor Turville of the UNSW's Kirby Institute says that in their study samples, vaccination with two doses of AstraZeneca or Pfizer were not able to stimulate an antibody response strong enough to neutralise Omicron and the Omicron variant also has an enhanced ability to evade antibodies even when the patient had previously contracted COVID.
This confirms what we have been hearing from overseas reports and now know, that that this variant has a dramatically advanced capacity to cause breakthrough infections.
This can help explain what we have observed in UK, Sth Africa with their accelerating numbers, so we can predict that Omicron is likely to dominate in Australia and will replace Delta.
In line with this, New South Wales Health has reported the biggest ever jump in case numbers for the state; there were 1360 cases recorded until 8pm on 14 December, 556 more than the previous day. The effective reproduction number (Reff) has now increased to 1.78 which means that we could be seeing up to 25,000 cases per day.
The possible need for regular 6monthly boosters beyond this, will depend on the dominant variant. Although these published laboratory findings are important, the reality in life is very different to prevention of infection and disease in the real world and other levels of immunity such as immune memory in T cells still need to be considered in terms of protection from severe disease.
What COVID-19 keeps showing the world is that we are in constant mode of learning and as we all enjoy moving around the country to holiday and connect with loved ones, we have just got to be careful wear masks, hand wash and get screened especially if we have had contact with known carriers or develop symptoms.
Magdalena Simonis
President, AFMW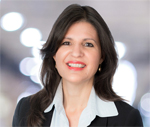 Magdalena is the President of the AFMW (2020-) and former President of VMWS (2013 & 2017-2020), National Coordinator AFMW, MWIA Scientific and Research Subcommittee co-Chair, MWIA Mentoring and Leadership, Special Interest Group, Chair
Magdalena's deep engagements with the RACGP over many years includes chair of Women in General Practice, is currently on the RACGP Expert Committee Quality Care, prior to that on RACGP eHealth Expert Committee. She is a regular media spokesperson on numerous health issues, being interviewed most weeks by mainstream and medical media. Magdalena has represented the RACGP at senate enquiries and has worked on several National Health Framework reviews.
Both an RACGP examiner and University examiner she supervises medical students and undertakes general practice research. Roles outside of RACGP include the Strategy and Policy Committee for Breast Cancer Network Australia, Board Director of Women's Health Victoria and Chair of their Strategy and Policy subcommittee and the AMA Victoria GP Network Committee.
Magdalena has presented at the United Nations as part of the Australian Assembly and was recently appointed the Australian representative to the World Health Organisation, World Assembly on COVID 19, by the Medical Women's International Association (MWIA).
A/Professor Simonis is currently a member of the National COVID-19 Taskforce expert committee, and Chair of the MWIA Mentoring and Leadership Special Interest Group.