ATAGI has changed its stance on vaccination for >18 year olds
Key points
Get whichever vaccine you can
Astra Zeneca and Pfizer reduce severity of disease symptoms, reduce hospitalisations,
Reduce likelihood of death
They might also reduce transmission to some extent
Delta strain is more contagious, is in our community and is now a major risk. It affects young people severely.
Putting clotting statistics in perspective:
Risks of Astra Zeneca vaccine
There are also rare but severe side effects: anaphylaxis (two to five per million people), and thrombosis with thrombocytopenia (TTS).
The only risk factor that has been shown to predict how likely you are to get TTS after an AstraZeneca vaccine is age.
Your  risk of getting a blood clot from TTS is still far less than your risk of dying in a car accident in the next year, and most people still don't think twice about getting into a car.
Masks remain a key form of disease spread control
USA CDC recommends masks
On Tuesday, July 27, US Centers for Disease Control and Prevention (CDC) issued updated guidance recommending fully vaccinated people wear masks in public indoor settings to help prevent the spread of the Delta variant and help protect.
Vaccines work
The UK reveals 12.5% of all Delta variant infections, were in those who were fully vaccinated also known as 'breakthrough infections'.
Of these, 3.8%, required a visit to ED. Just 2.9% required hospital admission, and less than 1% died.
Full Article
Here's the article: https://theconversation.com/over-18-and-considering-the-astrazeneca-vaccine-this-may-help-you-decide-165085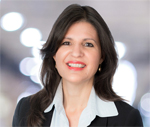 Magdalena is the President of the AFMW (2020-) and former President of VMWS (2013 & 2017-2020), National Coordinator AFMW, MWIA Scientific and Research Subcommittee co-Chair, MWIA Mentoring and Leadership, Special Interest Group, Chair
Magdalena's deep engagements with the RACGP over many years includes chair of Women in General Practice, is currently on the RACGP Expert Committee Quality Care, prior to that on RACGP eHealth Expert Committee. She is a regular media spokesperson on numerous health issues, being interviewed most weeks by mainstream and medical media. Magdalena has represented the RACGP at senate enquiries and has worked on several National Health Framework reviews.
Both an RACGP examiner and University examiner she supervises medical students and undertakes general practice research. Roles outside of RACGP include the Strategy and Policy Committee for Breast Cancer Network Australia, Board Director of Women's Health Victoria and Chair of their Strategy and Policy subcommittee and the AMA Victoria GP Network Committee.
Magdalena has presented at the United Nations as part of the Australian Assembly and was recently appointed the Australian representative to the World Health Organisation, World Assembly on COVID 19, by the Medical Women's International Association (MWIA).
A/Professor Simonis is currently a member of the National COVID-19 Taskforce expert committee, and Chair of the MWIA Mentoring and Leadership Special Interest Group.