See https://www.health.gov.au/news/joint-statement-between-ranzcog-and-atagi-about-covid-19-vaccination-for-pregnant-women
RANZCOG and ATAGI recommend that pregnant women are routinely offered Pfizer mRNA vaccine (Cominarty) at any stage of pregnancy. This is because the risk of severe outcomes from COVID-19 is significantly higher for pregnant women and their unborn baby.
Global surveillance data from large numbers of pregnant women have not identified any significant safety concerns with mRNA COVID-19 vaccines given at any stage of pregnancy. Furthermore, there is also evidence of antibody in cord blood and breastmilk, which may offer protection to infants through passive immunity.
Here is the link for shared decision making for women planning pregnancy, women at any stage of pregnancy and breast feeding women. This is of significance to medical women during COVID-19 as these have been very unsettling times for all, not quite knowing how to advise our colleagues who work in the front line and who are pregnant. Overseas studies do not indicate any increased adverse events for the unborn children of women who are vaccinated.
We are keen to observe the findings from the first large study in the UK. The current UK vaccination guide for pregnant women is here. Importantly, they state that "there is no need to avoid pregnancy after COVID-19 vaccination. There is no evidence that COVID-19 vaccines have any effect on fertility or your chances of becoming pregnant" and in line with WHO and USA, has recommended that the vaccines can be received whilst breastfeeding. the initial seminal paper is here (Gray KJ, Bordt EA, Atyeo C, Deriso E, Akinwunmi B, Young N, Baez AM, Shook LL, Cvrk D, James K, De Guzman R, Brigida S, Diouf K, Goldfarb I, Bebell LM, Yonker LM, Fasano A, Rabi SA, Elovitz MA, Alter G, Edlow AG. Coronavirus disease 2019 vaccine response in pregnant and lactating women: a cohort study. Am J Obstet Gynecol. 2021 Mar 26:S0002-9378(21)00187-3. doi: 10.1016/j.ajog.2021.03.023. Epub ahead of print. PMID: 33775692; PMCID: PMC7997025.)
Assoc. Professor Magdalena Simonis
MBBS FRACGP DRANZCOG MHHS
President, Australian Federation of Medical Women
Medical Women's International Association co-Chair Scientific and Research Committee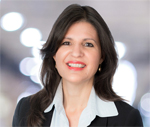 Associate Professor Magdalena Simonis AM is the President of the AFMW (2020-) and former President of VMWS (2013 & 2017-2020). She is a full time clinician who also holds positions on several not for profit organisations, driven by her passion for bridging gaps across the health sector. She is a leading women's health expert, keynote speaker, climate change and gender equity advocate and government advisor.
Magdalena was awarded a lifetime membership of the RACGP for her contributions which include past chair of Women in General Practice, longstanding contribution to the RACGP Expert Committee Quality Care, the RACGP eHealth Expert Committee. She is regularly invited to comment on primary care research though mainstream and medical media and contributes articles on various health issues through newsGP and other publications.
Magdalena has represented the RACGP at senate enquiries and has worked on several National Health Framework reviews. She is author of the RACGP Guide on Female Genital Cosmetic Surgery and co-reviewer of the RACGP Red Book Women's Health Chapter, and reviewer of the RACGP White book
Both an RACGP examiner and University examiner, she undertakes general practice research and is a GP Educator with the Safer Families Centre of Research Excellence, which develops education tools to assist the primary care sector identify, respond to and manage family violence . Roles outside of RACGP include the Strategy and Policy Committee for Breast Cancer Network Australia, Board Director of the Melbourne University Teaching Health Clinics and the elected GP representative to the AMA Federal Council. In 2022. she was award the AMA (Vic) Patrick Pritzwald-Steggman Award 2022, which celebrates a doctor who has made an exceptional contribution to the wellbeing of their colleagues and the community and was listed as Women's Agenda 2022 finalist for Emerging Leader in Health.
Magdalena has presented at the United Nations as part of the Australian Assembly and was appointed the Australian representative to the World Health Organisation, World Assembly on COVID 19, by the Medical Women's International Association (MWIA) in 2021. In 2023, A/Professor Simonis was included on the King's COVID-19 Champion's list and was also awarded a Member (AM) in the General Division for significant service to medicine through a range of roles and to women's health.