Let's get 'cliterate'. Professor Helen O'Connell AO presented at our AFMW Open forum on September 22nd, and educated us around the complex anatomy of the female genital tract focussing on the clitoris.
The current edition of the revered Gray's Anatomy text book ( https://en.wikipedia.org/wiki/Gray%27s_Anatomy), continues to portray an incorrect description of this complex and unique organ. Helen is Australia's first female urologist and Professor of urology. Her research is a world first and has instigated the 'cliteracy movement' bringing the arts and science together.
As you watch, you will come to understand the depth of ignorance around women's bodies, the effort made historically to 'fix' our 'anomalous' genitals and the reasons women's health has been so poorly taught and understood. You can watch and hear Professor Helen O'Connell's session here:
Magdalena Simonis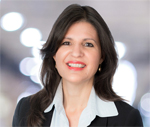 Magdalena is the President of the AFMW (2020-) and former President of VMWS (2013 & 2017-2020), National Coordinator AFMW, MWIA Scientific and Research Subcommittee co-Chair, MWIA Mentoring and Leadership, Special Interest Group, Chair
Magdalena's deep engagements with the RACGP over many years includes chair of Women in General Practice, is currently on the RACGP Expert Committee Quality Care, prior to that on RACGP eHealth Expert Committee. She is a regular media spokesperson on numerous health issues, being interviewed most weeks by mainstream and medical media. Magdalena has represented the RACGP at senate enquiries and has worked on several National Health Framework reviews.
Both an RACGP examiner and University examiner she supervises medical students and undertakes general practice research. Roles outside of RACGP include the Strategy and Policy Committee for Breast Cancer Network Australia, Board Director of Women's Health Victoria and Chair of their Strategy and Policy subcommittee and the AMA Victoria GP Network Committee.
Magdalena has presented at the United Nations as part of the Australian Assembly and was recently appointed the Australian representative to the World Health Organisation, World Assembly on COVID 19, by the Medical Women's International Association (MWIA).
A/Professor Simonis is currently a member of the National COVID-19 Taskforce expert committee, and Chair of the MWIA Mentoring and Leadership Special Interest Group.