shEqual, stemming from various cultural and systemic 'wrongs' that need to be corrected, was nationally launched in November 2020. An initiative of the Women's Health Victoria (WHV), shEqual is intended to create a wave of change in advertising. 
——————-
As a board member of Women's Health Victoria (WHV), we undertook the first white paper on the impacts of sexist advertising on Violence Against Women (VAW) and women's health issues including self image, anxiety, BDD, Eating Disorders.
WHV received state government funding for this project which we, as a board (WHV) agreed, was a direction we should take especially following from the work we did on creating the www.labialibrary.org around female genital cosmetic surgery ( FGCS). See https://whv.org.au/resources/whv-publications/labia-library
With the findings created, from the sexist advertising policy paper, the brand shEqual evolved. It was borne out of workshopping with a top marketing and branding company responsible for creating the TAC and QUIT campaigns.
"Whether ads are explicit or subtle, advertising has the power to influence how women are treated in society.
shEqual has gained much momentum during these COVID times.
It is intended to create a wave of change in advertising, to create awareness around subconscious bias and to make people see how sexism pervades almost everything we see, and how we choose one person over another for particular roles. Another source of gender inequity.
It is the beginning of a movement which aims to change the tide at root level.
For More Information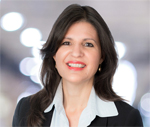 Magdalena is the President of the AFMW (2020-) and former President of VMWS (2013 & 2017-2020), National Coordinator AFMW, MWIA Scientific and Research Subcommittee co-Chair, MWIA Mentoring and Leadership, Special Interest Group, Chair
Magdalena's deep engagements with the RACGP over many years includes chair of Women in General Practice, is currently on the RACGP Expert Committee Quality Care, prior to that on RACGP eHealth Expert Committee. She is a regular media spokesperson on numerous health issues, being interviewed most weeks by mainstream and medical media. Magdalena has represented the RACGP at senate enquiries and has worked on several National Health Framework reviews.
Both an RACGP examiner and University examiner she supervises medical students and undertakes general practice research. Roles outside of RACGP include the Strategy and Policy Committee for Breast Cancer Network Australia, Board Director of Women's Health Victoria and Chair of their Strategy and Policy subcommittee and the AMA Victoria GP Network Committee.
Magdalena has presented at the United Nations as part of the Australian Assembly and was recently appointed the Australian representative to the World Health Organisation, World Assembly on COVID 19, by the Medical Women's International Association (MWIA).
A/Professor Simonis is currently a member of the National COVID-19 Taskforce expert committee, and Chair of the MWIA Mentoring and Leadership Special Interest Group.