In this article, originally published in The Age, AFMW President, A/Professor Magdalena Simonis discusses how funding GPs to provide ongoing support is critical given most women experiencing family violence do not leave the relationship, and that one in 10 women attending a GP is experiencing violence.
---
As family violence rates hit record highs in Victoria, GPs say there is urgent need for 10-session family safety management plans to be funded under Medicare.
The Royal Australian College of General Practitioners has backed a call by Melbourne University joint chair of family violence prevention, GP Professor Kelsey Hegarty, and other doctors, for Family Safety Plans to be funded in a similar way to GP-run Mental Health Plans.
"Family violence is a chronic health issue; an item number for a family safety plan would enable GPs to get people back [who have disclosed they are experiencing family violence] talk to them about safety – physical, emotional and relationship safety – and support them with an action plan," said Professor Hegarty.
"The ability for trusted and confidential GPs to assess safety and wellbeing in an ongoing way and refer to social workers and psychologists expert in domestic violence will enable survivors healing. They are a missing link in the current service system."
The plans would be similar to General Practice Mental Health Treatment Plans, but more simplified, and would provide a framework to help GPs provide mother-child group services.
Patients would get access to specialised social workers and family violence psychologists for up to 10 counselling sessions annually.
Dr Magdalena Simonis, a city GP and president of the Australian Federation of Medical Women said funding GPs to provide ongoing support is critical given most women experiencing family violence do not leave the relationship, and that one in 10 women attending a GP is experiencing violence.
"GPs are trusted; nine times out of 10 the first person they tell is their GP … and this doesn't take 15 minutes. It is really complex, family stuff. Women will say, 'I have to have sex to keep us safe', this is horrible, they come to you with that trauma, of knowing that about themselves," said Dr Simonis.
"You also become the port of call for the other health issues that arise [due to family violence] … just like sexual abuse, victims of domestic and family violence will often have worse chronic disease outcomes because of their self-neglect."
President of the Royal Australian College of General Practitioners, Karen Price, said it is vital that general practice does everything possible to help women and children who are experiencing family violence.
"Some women experiencing family violence may meet the criteria for a General Practice Mental Health Treatment Plan; however, it is important to remember that some may not. Helping people experiencing family violence requires comprehensive and protective safe care," she said.
"We are supportive of Medicare patient rebates that assist in the development of 'family health treatment plans' as part of a national approach to healthcare delivery for women and children experiencing family violence. These will help patients have adequate time with and support from their specialist GP."
In the year to December 31, 2020, family violence incidents in Victoria rose by 9.4 per cent from 84,543 to 92,521.
Police are called to such incidents every six minutes and an average of 253 incidents are attended each day.
A spokesman for the Department of Health said the government would continue to review suggestions for the Medicare Benefits Schedule and respond accordingly but the MBS Review Taskforce concluded against the efficacy and appropriateness of including a family violence item on grounds it could identify victim-survivors. Professor Hegarty said arrangements could be made to prevent this happening.
On Saturday, federal Social Services Minister, Anne Ruston, said statistics showing one Australian woman a week is killed by an intimate partner were "quite horrifying" and the government would commit hundreds of millions of dollars to "much more ambitious" programs in the next National Plan to Reduce Violence Against Women and their Children.
Family violence victim-survivor Maggie, who is an adviser to the Safer Families Centre of Research Excellence, said GP support for those experiencing family violence was integral. "They are often your first port of call and someone you feel very comfortable with … they're at the forefront because you trust them.
"It is about sitting and listening to us and helping us navigate a path that's safe for us and our children and for them to walk along the journey with you."
Being able to get ongoing support from the same GP meant patients were not compelled to tell their story repeatedly to strangers and for the doctor to be able to check in regularly.
"The doctor could be the only person that knows what's going on," she said.
If you or anyone you know needs support, you can contact the National Sexual Assault, Domestic and Family Violence Counselling Service on 1800RESPECT (1800 737 732).
Photo credit: SION SCHLUTER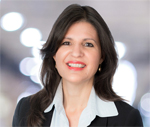 Associate Professor Magdalena Simonis AM is the President of the AFMW (2020-) and former President of VMWS (2013 & 2017-2020). She is a full time clinician who also holds positions on several not for profit organisations, driven by her passion for bridging gaps across the health sector. She is a leading women's health expert, keynote speaker, climate change and gender equity advocate and government advisor.
Magdalena was awarded a lifetime membership of the RACGP for her contributions which include past chair of Women in General Practice, longstanding contribution to the RACGP Expert Committee Quality Care, the RACGP eHealth Expert Committee. She is regularly invited to comment on primary care research though mainstream and medical media and contributes articles on various health issues through newsGP and other publications.
Magdalena has represented the RACGP at senate enquiries and has worked on several National Health Framework reviews. She is author of the RACGP Guide on Female Genital Cosmetic Surgery and co-reviewer of the RACGP Red Book Women's Health Chapter, and reviewer of the RACGP White book
Both an RACGP examiner and University examiner, she undertakes general practice research and is a GP Educator with the Safer Families Centre of Research Excellence, which develops education tools to assist the primary care sector identify, respond to and manage family violence . Roles outside of RACGP include the Strategy and Policy Committee for Breast Cancer Network Australia, Board Director of the Melbourne University Teaching Health Clinics and the elected GP representative to the AMA Federal Council. In 2022. she was award the AMA (Vic) Patrick Pritzwald-Steggman Award 2022, which celebrates a doctor who has made an exceptional contribution to the wellbeing of their colleagues and the community and was listed as Women's Agenda 2022 finalist for Emerging Leader in Health.
Magdalena has presented at the United Nations as part of the Australian Assembly and was appointed the Australian representative to the World Health Organisation, World Assembly on COVID 19, by the Medical Women's International Association (MWIA) in 2021. In 2023, A/Professor Simonis was included on the King's COVID-19 Champion's list and was also awarded a Member (AM) in the General Division for significant service to medicine through a range of roles and to women's health.