I was interviewed along with colleagues by The Age / SMH group for a feature article regarding the impact skewed social media messages are having on women's sexual and reproductive health. It's important to get correct information out there, to reach our audience who are our patients through the platforms they use!
---
'So far from science': GPs desperate to debunk sexual health myths on social media'
Doctors are fighting an uphill battle against misinformation about sexual health and contraception – including yoghurt-based thrush remedies, "cancer-causing" contraception, and requests for genital surgery – as young people increasingly turn to social media for medical advice.
General practitioner and women's health expert Dr Magdalena Simonis said many teenagers and women in their 20s and 30s are seeing misleading information on social media, at times resulting in unwanted pregnancies and requests for surgery on their genitals.
"Influencers are seeing themselves as changemakers or social commentators, but they don't realise that the impact they're having is actually pretty significant," Simonis said. "It's so far removed from science."
A US study published in Health Communication last week found that popular influencers were promoting unreliable – and often inaccurate – health advice at an alarming rate, triggering concerns among clinicians that more impressionable young people would suffer adverse health events, including unwanted pregnancies, STIs and self-esteem issues.
The most common myth Simonis has heard at her clinic is that the oral contraceptive pill – one of the most researched medications in Australia – causes breast cancer. Although the pill "is associated with a small increased risk of breast cancer while a woman is currently using it," according to Cancer Australia, it also reduces the risk of endometrial and ovarian cancer.
"There has been a whole swath of young women avoiding oral contraception on the basis that they just want to be 'all natural' and don't want to have any hormones affecting them," said Simonis.
She said women are being targeted on social media with alternative "natural" contraception methods that are promoted as being better for physical and mental health.
Professor Danielle Mazza, head of general practice at Monash University, has also noticed the trend of influencers peddling less-effective methods of contraception, such as period-tracking or fertility apps. Meanwhile, the potential side effects of reliable methods like the pill – such as depression and weight gain – are emphasised on social media.
"How many stories do you get about how wonderful the pill is? You don't see those stories online; you only see the negative," Mazza said.
Social media posts are not subject to regulation, meaning content creators can present any experience or opinion as fact as long as it abides by the platform's community guidelines.
Non-hormonal contraception methods have high failure rates, according to Dr Kirsten Black, professor of sexual and reproductive health at the University of Sydney.
About 24 in 100 women using those methods will get pregnant in a year, Black said, yet the hashtag "natural family planning" has 61 million views on TikTok.
Dr Karina Severin, a Melbourne GP specialising in women's health, said she knows of many patients who needed their pregnancy terminated after trying natural contraceptive methods that failed. She said some of those patients continue to use non-hormonal contraception and end up having a second abortion.
"[Social media users] are being spooked by [supposedly] more-effective options. Savvy influencers' technical videos are a bit more persuasive than some dry or boring sexual health website."
Most of the videos fail to acknowledge the benefits behind hormonal contraception, including menstrual regulation, lighter and less painful periods, a reduction in acne, and longer-term benefits such as reduced chances of ovarian and endometrial cancer.
Severin said many young people still feel a sense of shame or embarrassment when it comes to discussing sex, and some are more likely to turn to social media for advice instead of approaching a doctor first.
Social media even spurs anxiety around normal vaginal odours, she said, prompting women to use unnecessary products containing irritants to clean their vaginas.
"They [influencers] have tapped into this insecurity about what is just normal anatomy. What's being presented online is very selective, but then it makes you think you're abnormal."
Of major concern to Simonis is young women's requests for aesthetic surgery on their genitals, which she says is partly a result of warped ideals around genitalia on social media – a space saturated with airbrushed images.
She also warned against TikTok videos promoting alternative remedies, such as yoghurt for thrush, since even non-flavoured yoghurt can contain sugars that encourage yeast growth.
Simonis has also noticed an increase in queries from patients about the "agonising pain" caused by the insertion of long-acting reversible contraceptives (IUDs) like Mirena.
"Social media has really put a lot of young women off. For the majority, it's really quite tolerable, but the message [on social media] is that it should be done under general anaesthetic."
General anesthetic makes inserting IUDs more complex, Simonis said, as patients either have to go through the public hospital system – which would likely leave them on a long waiting list – or pay for a private gynaecologist.
Severin acknowledged that not all sexual health information on social media is dangerous or misleading. Instead of trying to pull people away from social media, she says perhaps it's time for clinicians to join these platforms themselves.
But she noted that the censorship of sexual terminology on some platforms – including the word "sex" – can make creating accurate content difficult for doctors, and regulation from medical boards leaves little flexibility over what can be published online.
"People are coming to me and saying, 'I don't know what to believe'," Severin said. "The problem [with social media] is you get this really skewed representation of the small number of very unhappy people, while the vast number of people are totally fine."
Nell Geraets
(article and photo credit –The Sydney Morning Herald)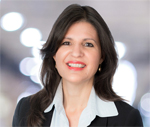 Magdalena is the President of the AFMW (2020-) and former President of VMWS (2013 & 2017-2020). She is a leading women's health expert, keynote speaker, climate change and gender equity advocate, government advisor and holds positions on several not for profit organisations bridging gaps across the health sector.
Magdalena's deep engagements with the RACGP over many years includes chair of Women in General Practice, is currently on the RACGP Expert Committee Quality Care, prior to that on RACGP eHealth Expert Committee. She is a regular media spokesperson on numerous health issues, being interviewed most weeks by mainstream and medical media. Magdalena has represented the RACGP at senate enquiries and has worked on several National Health Framework reviews, author of the RACGP Guide on Female Genital Cosmetic Surgery and co-reviewer of the RACGP Red Book Women's Health Chapter.
Both an RACGP examiner and University examiner she supervises medical students and undertakes general practice research and is a GP Educator. Roles outside of RACGP include the Strategy and Policy Committee for Breast Cancer Network Australia, Board Director of the Melbourne University Teaching Health Clinics and the elected GP representative to the AMA Federal Council.
Magdalena has presented at the United Nations as part of the Australian Assembly and was recently appointed the Australian representative to the World Health Organisation, World Assembly on COVID 19, by the Medical Women's International Association (MWIA).
A/Professor Simonis was a member of the National COVID-19 Taskforce expert committee which will lead into the development of the Australian CDC.