Congratulations to Dr Elizabeth Rickman AM, awarded the Member (AM) in the General Division of the Order of Australia. Dr Rickman from New South Wales is awarded the AM for her service to medicine and women's health. Among her many achievements she has served as on the Pride Foundation's LGBTIQA+ Refugee and Asylum Seeker Advisory Group.
Liz, an AFMW member, is a caring and dedicated general practitioner and has served women and the LGBT community in many inspirational ways; as an activist, mentor, human rights consultant. She is an organiser and an advocate for others and the climate. She once worked as a ship medic with Greenpeace and has helped achieve a lot for LGBT and women's rights despite many homophobic and misogynistic forces along the way. Liz is a founding member of ALMA and a member of NSW MWS.
Dr Elizabeth Dell RICKMAN, NSW
For significant service to medicine through women's health, and to the community.
Australian Lesbian Medical Association
Co-Founding Member, since 1999.
Co-Convener, International Issues and Human Rights Sub-Committee, since 2013.
Chair, Climate Action Subcommittee, since 2018.
Representative Member, LGBTIQ Refugee and Asylum Seeker Advisory Group, Pride Foundation Australia, since 2019.
The Australian Federation of Medical Women
Volunteer, Climate and Environment Working Group, current.
Member, current.
Public Officer, 2000-2019.
Committee Member, 2015-2017.
Women's Medical Societies
Secretary, Medical Women's Society of New South Wales, 2001-2010.
Member, Organising Committee, Western Pacific Regional Congress, Medical Women's International Association, 2018.
Environmental Advocacy
Member, Doctors for the Environment Australia, since 2019.
Member, Climate and Health Alliance, current.
Advocate, Medical Association for Prevention of War Australia, 1990.
Member, Paddlers for Peace Sydney, 1983-1990.
Ships Medic, Greenpeace Ships, 1997-2004.
Former Peace Activist, Women's Peace Movement.
Homeward Bound Women in Leadership Program HB6, 2021, with ongoing participation.
Health – Other
General Practitioner, Annandale General Practice, Sydney, current.
Consultant, Complementary Medicine, Balmain Hospital, 1998-2020.
General Practitioner, Leichardt Women's Community Health Centre, 1980-1992, and Board Member, 1991.
Medical Doctor, Angurugu Aboriginal Health Clinic, 1990.
Medical Doctor and Founder, Holistic Medical Centre, 1980-1990.
Medical Doctor, Nganampa Health Council, 1988.
Former Volunteer Doctor, Papua New Guinea.
Awards and Recognition Include:
Co-Recipient, Edna Ryan Award, 2016.
Congratulations Liz!
Dr Marjorie Cross, OAM
AFMW Council member
AFMW representative for ACT and Region MWS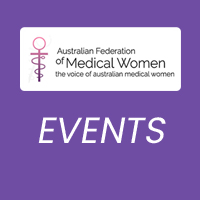 The Australian Federation of Medical Women (AFMW) is a not for profit, politically neutral, non sectarian, non government organisation that seeks to improve the health of all Australians, especially the health of women and children.
Events and Updates coordination by AFMW, on behalf of the Australian Federation of Medical Women (AFMW), its affiliated Australian state and territory partners and international networks and supporters. If you have an update or event you would like to share with us for Australian medical women, please contact us with details. Thank you.