As posted in Women's Agenda 7 June, 2023.
In an Australian first, free period products will soon be available across the ACT as the Period Products and Facilities (Access) Bill is expected to pass today.
Introduced by Suzanne Orr MLA, this legislation in the ACT is a step towards ensuring period products are provided free-of-charge across the country.
"I am pleased that here in the ACT we are the first government to provide period products free of charge and ensure that crucial information on menstrual hygiene is available to the community," said Orr.
"The ACT is the first jurisdiction in Australia to pass this nation leading reform, and I would encourage all other states and territories to be inspired by my bill so that no one who menstruates is ever in need."
An exposure draft bill was first released in December 2021, followed by the bill being introduced to the Assembly in August 2022. Now, the bill is being debated, with the legislation expected to pass on 7th June 2023.
Orr said a key focus of the bill was to help address the stigma associated with periods in the ACT.
"Canberra is rich with different cultures, which can lead to varying views on menstruation with it often being a 'taboo' topic," said Orr. "Access to menstruation hygiene is vital for the community due to these cultural differences and will be available in many languages."
In addition to providing free period products, the ACT government will also ensure information on menstrual hygiene is publicly available.
"Periods are a normal bodily function, yet they are still heavily stigmatised in society, resulting in people being uncomfortable to talk about periods. Asking friends when you need a tampon or asking a boss for time off because of period pain, are common actions often associated with nervousness because of stigma," said Orr.
"It shouldn't be this way, no one should be ostracised because they do not have access to the products, facilities and understanding they need to respond to a normal bodily function."
According to Share the Dignity's Period Pride Report – 'Bloody Big Survey', 15 per cent of respondents in the ACT have been unable to afford period products at some point in their life.
An Australian charity, Share the Dignity has been campaigning and advocating for change in the menstrual equity space for 8 years, saying they're "elated at the news".
Founding and managing director of Share the Dignity, Rochelle Courtenay said: "After working tirelessly to end period poverty in Australia for the last 8 years, it is incredible to see this bill, the first of its kind in Australia, be passed in the ACT."
"No one should have to make do with toilet paper, socks or newspaper for their period and this legislation will ensure women, girls and those who menstruate won't have to. I hope to see more states and territories follow in the ACT's footsteps so we can ensure menstrual equity for all menstruating Australians."
by Brianna Boecker
(Source article and photo credit: https://womensagenda.com.au/life/womens-health-news/free-period-products-to-be-available-across-the-act-as-new-legislation-passes/)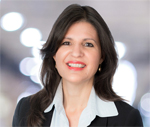 Associate Professor Magdalena Simonis AM is the President of the AFMW (2020-) and former President of VMWS (2013 & 2017-2020). She is a full time clinician who also holds positions on several not for profit organisations, driven by her passion for bridging gaps across the health sector. She is a leading women's health expert, keynote speaker, climate change and gender equity advocate and government advisor.
Magdalena was awarded a lifetime membership of the RACGP for her contributions which include past chair of Women in General Practice, longstanding contribution to the RACGP Expert Committee Quality Care, the RACGP eHealth Expert Committee. She is regularly invited to comment on primary care research though mainstream and medical media and contributes articles on various health issues through newsGP and other publications.
Magdalena has represented the RACGP at senate enquiries and has worked on several National Health Framework reviews. She is author of the RACGP Guide on Female Genital Cosmetic Surgery and co-reviewer of the RACGP Red Book Women's Health Chapter, and reviewer of the RACGP White book
Both an RACGP examiner and University examiner, she undertakes general practice research and is a GP Educator with the Safer Families Centre of Research Excellence, which develops education tools to assist the primary care sector identify, respond to and manage family violence . Roles outside of RACGP include the Strategy and Policy Committee for Breast Cancer Network Australia, Board Director of the Melbourne University Teaching Health Clinics and the elected GP representative to the AMA Federal Council. In 2022. she was award the AMA (Vic) Patrick Pritzwald-Steggman Award 2022, which celebrates a doctor who has made an exceptional contribution to the wellbeing of their colleagues and the community and was listed as Women's Agenda 2022 finalist for Emerging Leader in Health.
Magdalena has presented at the United Nations as part of the Australian Assembly and was appointed the Australian representative to the World Health Organisation, World Assembly on COVID 19, by the Medical Women's International Association (MWIA) in 2021. In 2023, A/Professor Simonis was included on the King's COVID-19 Champion's list and was also awarded a Member (AM) in the General Division for significant service to medicine through a range of roles and to women's health.