Am happy to announce that I'm one of the first students to have participated and completed this short course delivered by the Centre for Digital Transformation of Health, University of Melbourne.
As a member of this inaugural programme, I was amongst a midst of Technical Engineers, Government Health personnel, physicians, surgeons and allied health professionals. A truly interdisciplinary approach to healthcare systems. Headed by Professor Wendy Chapman, who is also one of the founders of Women in Digital Health ( WiDH).
In the short course, I was able to break through my day-to-day silos by working with a diverse multi-disciplinary team throughout the course. I learned from a multi-disciplinary team of experts how to access, analyse, and interpret health care data. I also learned the tools, tricks, and practicalities of designing a digital health solution and then evaluating and implementing solutions in practice. I have already started to apply all of these newfound learnings to my job.
I invite you to explore and enrol in the next short course.
Offerings will be May and September this year!
I am so pleased I participated in and had the opportunity to contribute to make this course great.
The team has published the design of the short course in IJMI and hope to publish the outcomes of their evaluation. These evaluations help the centre improve their offerings, ultimately building capacity in the workforce.
If you or any colleagues of yours are interested, please direct them to this website. As an inaugural alumnus, I can highly recommend it.
Magdalena Simonis
Chair, Medical Women in Technology and Health (MedWiTH)
President AFMW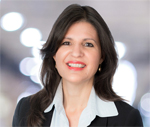 Associate Professor Magdalena Simonis AM is the President of the AFMW (2020-) and former President of VMWS (2013 & 2017-2020). She is a full time clinician who also holds positions on several not for profit organisations, driven by her passion for bridging gaps across the health sector. She is a leading women's health expert, keynote speaker, climate change and gender equity advocate and government advisor.
Magdalena was awarded a lifetime membership of the RACGP for her contributions which include past chair of Women in General Practice, longstanding contribution to the RACGP Expert Committee Quality Care, the RACGP eHealth Expert Committee. She is regularly invited to comment on primary care research though mainstream and medical media and contributes articles on various health issues through newsGP and other publications.
Magdalena has represented the RACGP at senate enquiries and has worked on several National Health Framework reviews. She is author of the RACGP Guide on Female Genital Cosmetic Surgery and co-reviewer of the RACGP Red Book Women's Health Chapter, and reviewer of the RACGP White book
Both an RACGP examiner and University examiner, she undertakes general practice research and is a GP Educator with the Safer Families Centre of Research Excellence, which develops education tools to assist the primary care sector identify, respond to and manage family violence . Roles outside of RACGP include the Strategy and Policy Committee for Breast Cancer Network Australia, Board Director of the Melbourne University Teaching Health Clinics and the elected GP representative to the AMA Federal Council. In 2022. she was award the AMA (Vic) Patrick Pritzwald-Steggman Award 2022, which celebrates a doctor who has made an exceptional contribution to the wellbeing of their colleagues and the community and was listed as Women's Agenda 2022 finalist for Emerging Leader in Health.
Magdalena has presented at the United Nations as part of the Australian Assembly and was appointed the Australian representative to the World Health Organisation, World Assembly on COVID 19, by the Medical Women's International Association (MWIA) in 2021. In 2023, A/Professor Simonis was included on the King's COVID-19 Champion's list and was also awarded a Member (AM) in the General Division for significant service to medicine through a range of roles and to women's health.