The Australian Federation of Medical Women represents the voice of medical women in Australia and advocates for the health of all Australians.
AFMW acknowledges that anthropogenic climate change is an urgent global health and urgent women's health challenge which occurs mainly due to human related greenhouse gas emissions which results in global warming which is accelerating and will not stabilise without significant human effort at national and international levels to mitigate them.
We join our medical colleagues from Doctors for the Environment (DEA), the Royal Australian College of Physicians (RACP), the Australian Medical Association (AMA), the Royal Australian College of General Practitioners (RACGP), Australian College of Environmental Medicine (ACEM), Australian College of Rural and Remote Medicine (ACRRM), the Thoracic Society of Australia and New Zealand (TSANZ)  and the Intergovernmental Panel on Climate Change (IPCC) who support the body of science related to climate change and unite with them in the call to our national and international leaders to curb greenhouse gas emissions and limit further climate destabilization.
Climate change has a disproportionate effect on women's health and further broadens existing social disparities in health, health access and health equality. The effects of climate change have deleterious, lasting impacts on food quality and production,  air quality, water quality and availability, extreme weather events and loss of homes, mental health decline, the spread of disease, the dislocation of vulnerable populations who no longer live in habitable environments resulting in the creation of environmental refugees. For women in particular, these impacts are magnified in that they are usually the carers of children and elderly. Exposure to environmental toxins affects pregnancies resulting in obstetric complications, birth defects, weaker babies and ongoing intergenerational effects.  Malnutrition in pregnancy results in higher maternal and infant mortality, resulting in orphaned children. Sexual violence against women increases and women lose reproductive control due to poor access to adequate reproductive health services and have more unplanned pregnancies. The climate change impact on women and children, puts further stress on existing health infrastructure.
We strongly urge the government, institutions and individuals to introduce policies to reduce carbon emissions and limit environmental degradation for the benefit of women, children and the whole population.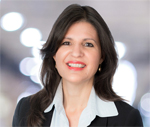 Magdalena is the President of the AFMW (2020-) and former President of VMWS (2013 & 2017-2020). She is a leading women's health expert, keynote speaker, climate change and gender equity advocate, government advisor and holds positions on several not for profit organisations bridging gaps across the health sector.
Magdalena's deep engagements with the RACGP over many years includes chair of Women in General Practice, is currently on the RACGP Expert Committee Quality Care, prior to that on RACGP eHealth Expert Committee. She is a regular media spokesperson on numerous health issues, being interviewed most weeks by mainstream and medical media. Magdalena has represented the RACGP at senate enquiries and has worked on several National Health Framework reviews, author of the RACGP Guide on Female Genital Cosmetic Surgery and co-reviewer of the RACGP Red Book Women's Health Chapter.
Both an RACGP examiner and University examiner she supervises medical students and undertakes general practice research and is a GP Educator. Roles outside of RACGP include the Strategy and Policy Committee for Breast Cancer Network Australia, Board Director of the Melbourne University Teaching Health Clinics and the elected GP representative to the AMA Federal Council.
Magdalena has presented at the United Nations as part of the Australian Assembly and was recently appointed the Australian representative to the World Health Organisation, World Assembly on COVID 19, by the Medical Women's International Association (MWIA).
A/Professor Simonis was a member of the National COVID-19 Taskforce expert committee which will lead into the development of the Australian CDC.