Women in ethnic majorities and minorities are often not given information in their language or even in English which they can understand. With the removal of several common hormone therapy treatments from the PBS, the health and well being of women from Culturally And Linguistically Diverse ( CALD) communities and with socioeconomic struggles, will be even further comprised.
Menopause is often branded "the change of life" as it marks the end of a woman's reproductive life, but with it come an array of symptoms physical and psychological. It has long been a taboo subject that many people still find uncomfortable to talk about especially women with limited English. During the talk I gave to the Greek women, I helped unpack the various stages of menopause and offered expert advice to help women experiencing this transition as well as increase their understanding of what it means to be menopausal.
There's not enough discussion around menopause, beyond hearing about hot flushes and maybe from a TV reference or some jokes that are made by women and men, little is known about it. Doctors rarely bring it up, and too often, patients dismiss the symptoms. I thoroughly enjoyed speaking at the Food for Thought Network (FFTN) and with The Greek Australian Women and Friends Around the World forum. Further conversations have been sparked off and I am hoping to change all that some interesting initiatives that involve the CALD groups of women.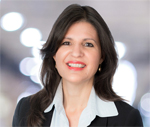 Magdalena is the President of the AFMW (2020-) and former President of VMWS (2013 & 2017-2020), National Coordinator AFMW, MWIA Scientific and Research Subcommittee co-Chair, MWIA Mentoring and Leadership, Special Interest Group, Chair
Magdalena's deep engagements with the RACGP over many years includes chair of Women in General Practice, is currently on the RACGP Expert Committee Quality Care, prior to that on RACGP eHealth Expert Committee. She is a regular media spokesperson on numerous health issues, being interviewed most weeks by mainstream and medical media. Magdalena has represented the RACGP at senate enquiries and has worked on several National Health Framework reviews.
Both an RACGP examiner and University examiner she supervises medical students and undertakes general practice research. Roles outside of RACGP include the Strategy and Policy Committee for Breast Cancer Network Australia, Board Director of Women's Health Victoria and Chair of their Strategy and Policy subcommittee and the AMA Victoria GP Network Committee.
Magdalena has presented at the United Nations as part of the Australian Assembly and was recently appointed the Australian representative to the World Health Organisation, World Assembly on COVID 19, by the Medical Women's International Association (MWIA).
A/Professor Simonis is currently a member of the National COVID-19 Taskforce expert committee, and Chair of the MWIA Mentoring and Leadership Special Interest Group.