The Medical Women's International Association (MWIA) MWIA Quarterly Update – Activities of MWIA and its Regions – June 2023 is now available. AFMW is affiliated with Medical Women's International Association, an association of medical women and students representing women doctors from all six continents and eight regions.
---
President's Message
One of the high points of this quarter is the good news of the MWIA certificate of registration which was issued on 3rd May 2023 by the Swiss Commercial register with the number: CHF 370 215 027.
With a deep sense of humility and emotion-laden I led the MWIA Exco to the offices of our lawyers Borel and Barbey for the official handover of the MWIA registration certificate. They have been the lawyers of MWIA since 1952 when they were known as Borel and Lachenal, Geneva. I must acknowledge the hard work of the Secretary General, Dr Mariam Jashi and the supportive MWIA Exco for making this a reality.
I represented MWIA in a series of virtual meetings. On the 9th May, I attended The Group of Friends – Health, an initiative under the Global Compact on Refugees (GCR), technically co-chaired by UNHCR and WHO. MWIA expressed concerns with regard to access to healthcare for refugees and their host communities, as there should be consideration also for healthcare professionals who are refugees and suffer hurdles on account of additional accreditation and certification requirements to obtain a practice license in refugee-hosting countries.
I also attended the precursor to the Southern European Congress hosted by the Italian Medical Women's Association under the leadership of Dr. Concetta Laurentaci, Regional VP Southern Europe. At the launch of the Nigeria chapter of Women in Global Health, I gave a goodwill message on behalf of MWIA.
On May 16 I was both humbled and honoured at the same time to be one of eight women inducted into the prestigious Nigeria Women Hall of Fame alongside Ngozi Okonjo Iweala – WTO DG and Amina Mohammed – UN DSG. In my speech, I acknowledged the Minister for Women's Affairs, Dame Pauline Tallen as one of those who cut through the forest to create a safe path for other women to follow https://gazettengr.com/fg-inducts-eight-outstanding-women-into-nigerias-hall-of-fame/
As part of increasing MWIA visibility, I was featured in the New Telegraph newspaper
The attendance in person alongside other MWIA Exco members at the Seventy-sixth World Health Assembly in Geneva was most rewarding. We used the opportunity for face-to-face Exco meetings from 28th to 30th May. As it was our first face-to-face meeting, I performed a small ceremony of officially pinning the President Elect's Badge on Dr Amany Asfour.
Below are some of the high visibility engagements and bilateral meetings held during the World Health Assembly. Not only did MWIA ExCo participate in the World Health Assembly (WHA), on behalf of MWIA I presented two oral Statements. On 24th May I presented a statement on adolescent health and violence against women and girls and on the 26th May a statement on Cardio Vascular Disease.
I was a panelist on International Day against harassment and for inclusion in the world of work. Also on the panel was Gaya Gamhewage, Director Prevention of and response to Sexual Misconduct www.24may.org
On 25th May I met with the Chair and members of the CEDAW Committee as well as having a bilateral meeting with the Chief Nursing officer of WHO, Dr Amelia Late Tuipuilotu.
On 26th May I made a presentation at the Strategic roundtable on "A safer and healthier tomorrow by restoring essential immunization today" hosted by DG WHO Tedros Adhanom Ghebreyesus and Dr Kate O'Brien – WHO Director, Immunization, Vaccines & Biologicals (IVB).
The MWIA hybrid Gender Medicine round table was held on the margins of the WHA on 30th May at the World Council of Churches in Geneva with very illuminating presentations and interactions.
The principal officers of MWIA also attended the WHO Executive Board meeting at the invitation of WHO.
On 1st June, principal officers met with Bernard Kuiten, Head of External Relations of World Trade Organization to discuss the intersect between health and trade and MWIA now has observer status with WTO.
Regional VP North America Dr Connie Newman and I met with Australian Medical Students who had received a scholarship from Global Voices to attend the WHA. They are developing policy papers on Mental Health and Domestic Violence in an Australian context.
I invite you to read the very interesting reports from our Committees and SIGs who have been very active. The new call for Expressions of interest for more MWIA members to join existing SIGs will be going out in the near future.
As we go into the 2nd year of the MWIA Triennium, I invite all our members to participate in actualizing the President's Triennial theme: One Humanity: Health solutions through our partnerships by seeking meaningful partnerships and exploiting our connectedness.
Matris Animo Curant – Healing with the spirit and love of a mother.
I wish all of us the very best for the rest of the year 2023.
Dr. Eleanor Nwadinobi
MWIA President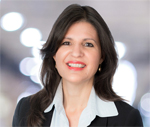 Associate Professor Magdalena Simonis AM is the President of the AFMW (2020-) and former President of VMWS (2013 & 2017-2020). She is a full time clinician who also holds positions on several not for profit organisations, driven by her passion for bridging gaps across the health sector. She is a leading women's health expert, keynote speaker, climate change and gender equity advocate and government advisor.
Magdalena was awarded a lifetime membership of the RACGP for her contributions which include past chair of Women in General Practice, longstanding contribution to the RACGP Expert Committee Quality Care, the RACGP eHealth Expert Committee. She is regularly invited to comment on primary care research though mainstream and medical media and contributes articles on various health issues through newsGP and other publications.
Magdalena has represented the RACGP at senate enquiries and has worked on several National Health Framework reviews. She is author of the RACGP Guide on Female Genital Cosmetic Surgery and co-reviewer of the RACGP Red Book Women's Health Chapter, and reviewer of the RACGP White book
Both an RACGP examiner and University examiner, she undertakes general practice research and is a GP Educator with the Safer Families Centre of Research Excellence, which develops education tools to assist the primary care sector identify, respond to and manage family violence . Roles outside of RACGP include the Strategy and Policy Committee for Breast Cancer Network Australia, Board Director of the Melbourne University Teaching Health Clinics and the elected GP representative to the AMA Federal Council. In 2022. she was award the AMA (Vic) Patrick Pritzwald-Steggman Award 2022, which celebrates a doctor who has made an exceptional contribution to the wellbeing of their colleagues and the community and was listed as Women's Agenda 2022 finalist for Emerging Leader in Health.
Magdalena has presented at the United Nations as part of the Australian Assembly and was appointed the Australian representative to the World Health Organisation, World Assembly on COVID 19, by the Medical Women's International Association (MWIA) in 2021. In 2023, A/Professor Simonis was included on the King's COVID-19 Champion's list and was also awarded a Member (AM) in the General Division for significant service to medicine through a range of roles and to women's health.