Dr Magdalena Simonis, a member of the RACGP Expert Committee – Quality Care (REC–QC), who recently wrote an advice piece for Nine Newspapers (shared with the AFMW) on how to manage COVID-19 at home summarises the key messages. Read the article at RACGP newsGP.
---
'Our phone lines are being overwhelmed by requests for advice,' Dr Simonis told newsGP.
'One of the reasons … I wrote the article was because I was repeating myself many times a day [to patients] over the phone.'
Dr Simonis says people are dealing with a lot of insecurity and, in her view, that has not been adequately addressed by government messaging.
'They've said "go see your GP if you've got concerns" but they didn't ask us what we would need in case there was a swarm of anxious patients,' she said.
'So we are trying now to patch those gaps.
'There's a lot of concern out there about how to manage this at home, and people are being told to manage this at home and to stay at home. But they're not being empowered to make decisions about their families.'
Dr Simonis believes there needs to be a 'multi-pronged' approach, to communication including TV, radio, social media and newspapers.
A key part, she says, is ensuring appropriate messages reach Culturally and Linguistically Diverse (CALD) communities.
'It needs to be delivered ideally through representatives of their community in the language that they understand, and through people that they trust,' Dr Simonis said.
It is one of the reasons Dr Simonis also wrote about managing COVID in the home for the Greek community newspaper Neos Kosmos [article shared with AFMW] – and she encourages other GPs with CALD backgrounds to do something similar for their respective communities if possible.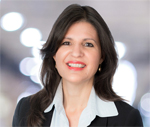 Associate Professor Magdalena Simonis AM is the President of the AFMW (2020-) and former President of VMWS (2013 & 2017-2020). She is a full time clinician who also holds positions on several not for profit organisations, driven by her passion for bridging gaps across the health sector. She is a leading women's health expert, keynote speaker, climate change and gender equity advocate and government advisor.
Magdalena was awarded a lifetime membership of the RACGP for her contributions which include past chair of Women in General Practice, longstanding contribution to the RACGP Expert Committee Quality Care, the RACGP eHealth Expert Committee. She is regularly invited to comment on primary care research though mainstream and medical media and contributes articles on various health issues through newsGP and other publications.
Magdalena has represented the RACGP at senate enquiries and has worked on several National Health Framework reviews. She is author of the RACGP Guide on Female Genital Cosmetic Surgery and co-reviewer of the RACGP Red Book Women's Health Chapter, and reviewer of the RACGP White book
Both an RACGP examiner and University examiner, she undertakes general practice research and is a GP Educator with the Safer Families Centre of Research Excellence, which develops education tools to assist the primary care sector identify, respond to and manage family violence . Roles outside of RACGP include the Strategy and Policy Committee for Breast Cancer Network Australia, Board Director of the Melbourne University Teaching Health Clinics and the elected GP representative to the AMA Federal Council. In 2022. she was award the AMA (Vic) Patrick Pritzwald-Steggman Award 2022, which celebrates a doctor who has made an exceptional contribution to the wellbeing of their colleagues and the community and was listed as Women's Agenda 2022 finalist for Emerging Leader in Health.
Magdalena has presented at the United Nations as part of the Australian Assembly and was appointed the Australian representative to the World Health Organisation, World Assembly on COVID 19, by the Medical Women's International Association (MWIA) in 2021. In 2023, A/Professor Simonis was included on the King's COVID-19 Champion's list and was also awarded a Member (AM) in the General Division for significant service to medicine through a range of roles and to women's health.