AFMW President Award recipient 2022, Dr Merrilyn Murnane AM has authored the book "Honourable Healers: Pioneering Women Doctor" which is based on the lives of the first medical women in Australia, Constance Stone, USA Elizabeth Blackwell and UK Elizabeth Garrett Anderson.
The book is sensitively written and thoroughly researched. Very little exists regarding Constance Stone's life as she did not write a memoir. It seems that she and the founding members of the Victorian Medical Women's Society were so busy establishing the Queen Victoria hospital from the St David's church hall in the La Trobe Street Wesley church in Melbourne, that they didn't document their journey for future generations. They just got on with serving the most vulnerable women and children in the community and little was known about them until Dr Merrilyn Murnane took an interest as a VMWS Past President.
Purchase of this book for Christmas would make a wonderful gift and spreads the knowledge about these Honourable Healers. We thank Dr Merrilyn Murnane AM for capturing their lives in this book.
To Purchase
Dr Murnane's book is available to purchase here: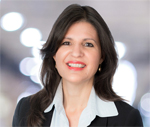 Magdalena is the President of the AFMW (2020-) and former President of VMWS (2013 & 2017-2020). She is a leading women's health expert, keynote speaker, climate change and gender equity advocate, government advisor and holds positions on several not for profit organisations bridging gaps across the health sector.
Magdalena's deep engagements with the RACGP over many years includes chair of Women in General Practice, is currently on the RACGP Expert Committee Quality Care, prior to that on RACGP eHealth Expert Committee. She is a regular media spokesperson on numerous health issues, being interviewed most weeks by mainstream and medical media. Magdalena has represented the RACGP at senate enquiries and has worked on several National Health Framework reviews, author of the RACGP Guide on Female Genital Cosmetic Surgery and co-reviewer of the RACGP Red Book Women's Health Chapter.
Both an RACGP examiner and University examiner she supervises medical students and undertakes general practice research and is a GP Educator. Roles outside of RACGP include the Strategy and Policy Committee for Breast Cancer Network Australia, Board Director of the Melbourne University Teaching Health Clinics and the elected GP representative to the AMA Federal Council.
Magdalena has presented at the United Nations as part of the Australian Assembly and was recently appointed the Australian representative to the World Health Organisation, World Assembly on COVID 19, by the Medical Women's International Association (MWIA).
A/Professor Simonis was a member of the National COVID-19 Taskforce expert committee which will lead into the development of the Australian CDC.