Our colleagues at the AMWA (American Medical Women's Association), are seeking participation in and contribution to their Reproductive Health Day of Action. It was held on 24 June 2023, however you can still connect and contribute to the Reproductive Health Coalition. Here's the request from AMWA Executive Director, Eliza Lo Chin MD MPH.
---
Dear Colleagues,
A request from AMWA (American Medical Women's Association) in the USA to our international colleagues: 
As you know reproductive health care has been increasingly restricted in certain areas of our country, Today, June 24 is the one year anniversary of the overturn of the Supreme Court decision that allowed national access to abortion. Would you or your association help amplify our posts and indicate support of AMWA's advocacy to regain access to the full spectrum of reproductive healthcare, including abortion – and use #RHC2023?  In addition, we welcome you to join our Reproductive Health Coalition which has now become international.
We invite you to follow @RHCInternat as well as @AMWADoctors.
Click on these direct links to our posts:
With much gratitude for your solidarity,
Eliza
Eliza Lo Chin, MD, MPH
Executive Director
American Medical Women's Association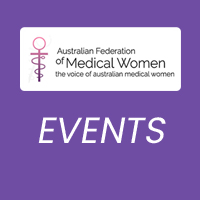 The Australian Federation of Medical Women (AFMW) is a not for profit, politically neutral, non sectarian, non government organisation that seeks to improve the health of all Australians, especially the health of women and children.
Events and Updates coordination by AFMW, on behalf of the Australian Federation of Medical Women (AFMW), its affiliated Australian state and territory partners and international networks and supporters. If you have an update or event you would like to share with us for Australian medical women, please contact us with details. Thank you.