I was  interviewed to comment on the findings from this recent publication which is based on the study undertaken at Australia's largest obstetric hospital, Mater in QLD.  Here is what I say,
Q. Are you surprised to see the rates of anxiety and depression have risen by so much in pregnant women?
A. Not really, as this is a reflection of what GPs are seeing across the broader community, so it makes sense that an increase in perinatal mental health issues would also reflect in pregnant women.
Pregnancy is a period of intense change which can be associated with financial stress, job insecurity, changes in family dynamics, increased levels of physical fatigue and sleep deprivation, concerns around the health of the baby from common environmental exposures and illnesses once not considered as important to one's own health, as well as being a time when women are more likely to experience intimate partner violence for the first time also. If you also consider the statistic that around half of all pregnancies are unplanned (stat for this), such changes result in a need for rapid adjustment for which existing systems do not provide support.
Q. Why do you think they're rising?
A. These rates are increasing for a variety of reasons including increased screening for perinatal mental health issues.
For Shared Care GPs such as myself, asking the question, is the pregnancy planned or a surprise?', then asking 'how do you feel about being pregnant?' and very importantly, 'how are things at home?' as a routine part of the consultation, can open up the conversation. It is at this point where women will divulge how they really feel, what is really going on and they might even disclose that they are victims of family violence.
There is also an increased tendency for people visiting the GP to admit to feeling down or unhappy or anxious when asked,because mental health is receiving a lot of public attention and there have been campaigns such as the RUOK and Beyond Blue. This study is based on the population of women attending Mater hospital in QLD and although it is the largest obstetric hospital in Australia, further research to compare with other states is required however, we can generalise that similar societal, environmental and economic pressures exist across Australia. There is a lack of psychosocial supports for women in pregnancy from preconception planning, through to postnatal care.
These results are important as perinatal mood and anxiety disorders are associated with increased risks of maternal and infant mortality and morbidity which impacts the mother, the baby and the family unit in numerous ways, as well as placing demands on the health system. Women of Aboriginal and Torres Strait Islander background, comprised around 4% of the cohort, but were over represented with respect to mental health issues, which points to a great need for addressing gaps in the health system.
It would be very interesting to see what impact COVID -19 has had on these numbers too, as the 2020-2022 period has been one of the most stressful for the health system and for community as a whole.
Q. As a GP, is this something you see in everyday practice?
A. Yes, GPs deal with mental health issues as part of nearly 60-70% of our consultations. This study provides further support for the importance of providing support for GPs in having longer consultations for these complex but common issues. Dealing with mental health issues alongside managing the routine pregnancy, is routine for most of us. There are degrees of anxiety and depression, so for some, we provide the support through more regular sessions to provide counselling, listening and support or link them up with community services. This doesn't always get billed as a 'mental health' consultation, although form an integral part of prevention which GPs undertake on a regular basis.
Q: What is your advice to GPs who do see pregnant woman in their practices suffering poor mental health?
A. There are women who already have a history of mental health issues and those who will develop them during pregnancy. Be aware that this is a high risk period for family violence to present for the first time also recommended.
Ideally start with pre-pregnancy counselling and prenatal screening. When this is performed already, it will give you and the woman an opportunity to build supports and prepare for pregnancy. Where a mental health issue has existed or she is taking medication already, we discuss her treatment, involve her psychologist or psychiatrist as early as possible. Talk about medication safety in pregnancy and substance abuse issues including illicit drugs, cannabinoids, smoking and alcohol. Alcohol is toxic in pregnancy and this should be emphasised as the consequences result in Fetal Alcohol Spectrum Disorder, which can take years to properly diagnose and requires years of multi-disciplinary interventions to manage.
Pregnant women with mental health issues, need longer consultations. Make sure all their regular antenatal health checks are up to date so that these screens don't fall through the cracks, which can happen in patients with mental issues.
Learn more about how their psychosocial and financial circumstances and how pregnancy might affect them. Inquire about their support network and who their chosen support person is, as this will help you manage them through this period, especially if their condition deteriorates.
Pregnancy associated anxiety, is common and is not necessarily a mental health issue. Putting counselling supports in place early to prevent this is part of our important role here, so don't hesitate to book several appointments to keep an eye on things if you are concerned. Share your willingness to help walk her through this phase as showing that you care is very reassuring, especially if she is ambivalent regarding the pregnancy.
If the woman chooses not to continue with the pregnancy, provide her with the necessary treatment options for termination of pregnancy in a non-judgmental manner and if you cannot provide this care, refer her to a colleague/centre who can assist her without delay.
The major obstetric hospitals provide services for mental health issues in pregnancy such as Women's Mental Health Service.
Screening for Family Violence is now required in most states, as it might present for the first time in pregnancy or become more intense. The screening tool is available in the RACGP Red Book and the RACGP White Book and is based on practising ACTS which encourage you to ask:
A – are you afraid?
C – has anyone tried to control or coerce you?
T – has your partner / anybody threatened you?
S – has your partner slapped, hit hurt in other ways?
Respond using the The WHO LIVES model of first-line response to IPAV
Listen: Listen to the person closely, with empathy, and without judging
Inquire: Assess and respond to their various needs and concerns – emotional, physical, social and practical
Validate: Show that you understand and believe the person − assure them that they are not to blame
Enhance safety: Discuss a plan for the person to protect themself from further harm if violence occurs again
Support: Support the person by helping them connect to information, services and social support
See Strengthening Hospital Responses to Family Violence (SHRFV) Tool Kit. Is very helpful.
Also see Family violence: Providing a pathway to safety and healing.
Q. Is there the common myth still around that women are just experiencing the 'baby blues'?
A. The baby blues are a real phenomenon and due to the hormonal surges around lactation and the postpartum period. They affect around 80% of postnatal women and it is normal to feel overwhelmed, anxious and to tear up easily. These usually pass entirely by day 5 and if they persist, suspect the onset of postnatal depression, anxiety or other mental health condition. Make sure to screen for depression at the 6 week postnatal check-up to exclude postnatal depression and to assess how things are going at home.
Referring RACGP article and photo credit.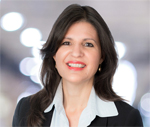 Associate Professor Magdalena Simonis AM is the President of the AFMW (2020-) and former President of VMWS (2013 & 2017-2020). She is a full time clinician who also holds positions on several not for profit organisations, driven by her passion for bridging gaps across the health sector. She is a leading women's health expert, keynote speaker, climate change and gender equity advocate and government advisor.
Magdalena was awarded a lifetime membership of the RACGP for her contributions which include past chair of Women in General Practice, longstanding contribution to the RACGP Expert Committee Quality Care, the RACGP eHealth Expert Committee. She is regularly invited to comment on primary care research though mainstream and medical media and contributes articles on various health issues through newsGP and other publications.
Magdalena has represented the RACGP at senate enquiries and has worked on several National Health Framework reviews. She is author of the RACGP Guide on Female Genital Cosmetic Surgery and co-reviewer of the RACGP Red Book Women's Health Chapter, and reviewer of the RACGP White book
Both an RACGP examiner and University examiner, she undertakes general practice research and is a GP Educator with the Safer Families Centre of Research Excellence, which develops education tools to assist the primary care sector identify, respond to and manage family violence . Roles outside of RACGP include the Strategy and Policy Committee for Breast Cancer Network Australia, Board Director of the Melbourne University Teaching Health Clinics and the elected GP representative to the AMA Federal Council. In 2022. she was award the AMA (Vic) Patrick Pritzwald-Steggman Award 2022, which celebrates a doctor who has made an exceptional contribution to the wellbeing of their colleagues and the community and was listed as Women's Agenda 2022 finalist for Emerging Leader in Health.
Magdalena has presented at the United Nations as part of the Australian Assembly and was appointed the Australian representative to the World Health Organisation, World Assembly on COVID 19, by the Medical Women's International Association (MWIA) in 2021. In 2023, A/Professor Simonis was included on the King's COVID-19 Champion's list and was also awarded a Member (AM) in the General Division for significant service to medicine through a range of roles and to women's health.