Two of our AFMW members, namely A/Prof Jacqueline Boyle and Dr Magdalena Simonis were invited to participate in the Women in Global Health Australia (WGHA) webinar, "Unequal Burdens for Women in Healthcare".
Thank you to all that joined us for #UnequalBurdens The thought provoking discussion is now online.
Thank you to our panel members for their expertise and time @mbismark @DrFayeMcMillan @drmsimonis @kylieward @jacanab @nadahamad #LouiseONeillhttps://t.co/ceWnQkIGm1

— Women in Global Health Australia (@WGHAustralia) June 6, 2022
The pandemic has placed an unequal burden on women healthcare workers, who in Australia make up 75% of the workforce. Women in healthcare experienced a higher risk of exposure and infection, barriers to accessing personal protective equipment, decreased leadership and decision-making opportunities and increased workloads. Despite all this, women healthcare workers still absorbed the increased caregiving responsibilities when access to school and child care support was restricted.
COVID-19 has highlighted the urgent need for system level changes to better support women across the healthcare workforce. Join Women in Global Health Australia as we hear from the first hand experiences of healthcare workers, including representatives from medicine, nursing , allied health, and aged care. We will facilitate a discussion on the system changes required, particularly around care, parental leave and flexibility and highlight current approaches to drive evidence-based change.
See Unequal Burdens for Women in Healthcare
Magdalena Simonis, AFMW President
Jacqueline Boyle, AFMW member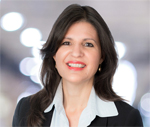 Magdalena is the President of the AFMW (2020-) and former President of VMWS (2013 & 2017-2020), National Coordinator AFMW, MWIA Scientific and Research Subcommittee co-Chair, MWIA Mentoring and Leadership, Special Interest Group, Chair
Magdalena's deep engagements with the RACGP over many years includes chair of Women in General Practice, is currently on the RACGP Expert Committee Quality Care, prior to that on RACGP eHealth Expert Committee. She is a regular media spokesperson on numerous health issues, being interviewed most weeks by mainstream and medical media. Magdalena has represented the RACGP at senate enquiries and has worked on several National Health Framework reviews.
Both an RACGP examiner and University examiner she supervises medical students and undertakes general practice research. Roles outside of RACGP include the Strategy and Policy Committee for Breast Cancer Network Australia, Board Director of Women's Health Victoria and Chair of their Strategy and Policy subcommittee and the AMA Victoria GP Network Committee.
Magdalena has presented at the United Nations as part of the Australian Assembly and was recently appointed the Australian representative to the World Health Organisation, World Assembly on COVID 19, by the Medical Women's International Association (MWIA).
A/Professor Simonis is currently a member of the National COVID-19 Taskforce expert committee, and Chair of the MWIA Mentoring and Leadership Special Interest Group.