Applications are now open until 20 January 2023 for the Institute's Women in Digital Health (WiDH) leadership and professional development program. Now in its second year, WiDH was developed to advance the digital health careers of women through immersive coaching and personalised mentoring experiences.
The 25 women accepted into the program will work with inspirational leaders, coaches and mentors from across the digital health community and join leadership retreats from February to August 2023.
Program Mentors
Register for Information Session
Candidates are invited to register for an online information session from 10am – 11am AEDT Wednesday 30 November 2022.
Why should I join this info session?
If you want to know if this leadership program is right for you
If you have a colleague who you think might benefit from the program and you want to learn more to support them
If you have any questions we haven't answered yet
If you are just curious and want to learn more
In this session you will learn how this program can catapult your career forward. We will discuss the curriculum, program structure and program benefits as well as answer your questions.
Magdalena Simonis
President AFMW
Chair, Medical Women in Technology and Health (MedWiTH)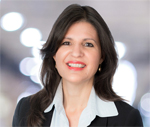 Magdalena is the President of the AFMW (2020-) and former President of VMWS (2013 & 2017-2020), National Coordinator AFMW, MWIA Scientific and Research Subcommittee co-Chair, MWIA Mentoring and Leadership, Special Interest Group, Chair
Magdalena's deep engagements with the RACGP over many years includes chair of Women in General Practice, is currently on the RACGP Expert Committee Quality Care, prior to that on RACGP eHealth Expert Committee. She is a regular media spokesperson on numerous health issues, being interviewed most weeks by mainstream and medical media. Magdalena has represented the RACGP at senate enquiries and has worked on several National Health Framework reviews.
Both an RACGP examiner and University examiner she supervises medical students and undertakes general practice research. Roles outside of RACGP include the Strategy and Policy Committee for Breast Cancer Network Australia, Board Director of Women's Health Victoria and Chair of their Strategy and Policy subcommittee and the AMA Victoria GP Network Committee.
Magdalena has presented at the United Nations as part of the Australian Assembly and was recently appointed the Australian representative to the World Health Organisation, World Assembly on COVID 19, by the Medical Women's International Association (MWIA).
A/Professor Simonis is currently a member of the National COVID-19 Taskforce expert committee, and Chair of the MWIA Mentoring and Leadership Special Interest Group.