This briefing document prepared by CAHA (Climate and Health Alliance) provides a summary of the key findings related to health and wellbeing from the February 2022 IPCC report.
The Intergovernmental Panel on Climate Change, or IPCC, is the world's highest authority on climate science. It is made up of leading climate scientists from around the world who provide regular assessments of the latest climate science. The IPCC is publishing their sixth series of assessments, also known as the Sixth Assessment Report (AR6). AR6 consists of three major reports published in 2021-22:
A report on the physical science basis of climate change, which was released in August 2021;
A report on climate change impacts, adaptation and vulnerability, which was released in February 2022;
A report on mitigation of climate change, which will be released in April 2022.
This briefing discusses the second report on climate change impacts, adaptation and vulnerability.
This IPCC Report is the most comprehensive scientific summary to date of the impact of climate change. The IPCC has reviewed thousands of scientific papers and provides summaries on a wide range of topics, including water systems, food systems, Indigenous knowledge, oceans, cities, health, poverty and inequality. It also contains chapters on specific regions, including Australasia, Small Island Developing States, Africa and Asia.
The IPCC AR6 report runs to over a thousand pages. This briefing aims to summarise the findings relevant to health and wellbeing, and provide a resource for health professionals and policy-makers working at the intersection of climate change and health. In no way does it aim to replace, dispute, or reinterpret the findings of the IPCC report. CAHA encourages readers to consult the original report for more information.
The IPCC report also comes with a Summary for Policymakers (SPM), which provides a high-level synopsis of the entire report, and serves as a guiding document for policymakers worldwide. The exact wording of the SPM is negotiated by governments from around the world, and forms an important basis for national and international climate policies.
To verify statements throughout this briefing, references are included for the original IPCC chapter and section (Chapter.Section) or section of the SPM (SPM: B.1.4).
View the Full Report
View the CAHA report "Climate Change is a Health Crisis – Health Messages from the IPCC Sixth Assessment Report on Climate Impacts, Adaptation and Vulnerability".
Magdalena Simonis
Chair, Climate Health Action Group (CHAG)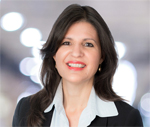 Magdalena is the President of the AFMW (2020-) and former President of VMWS (2013 & 2017-2020). She is a leading women's health expert, keynote speaker, climate change and gender equity advocate, government advisor and holds positions on several not for profit organisations bridging gaps across the health sector.
Magdalena's deep engagements with the RACGP over many years includes chair of Women in General Practice, is currently on the RACGP Expert Committee Quality Care, prior to that on RACGP eHealth Expert Committee. She is a regular media spokesperson on numerous health issues, being interviewed most weeks by mainstream and medical media. Magdalena has represented the RACGP at senate enquiries and has worked on several National Health Framework reviews, author of the RACGP Guide on Female Genital Cosmetic Surgery and co-reviewer of the RACGP Red Book Women's Health Chapter.
Both an RACGP examiner and University examiner she supervises medical students and undertakes general practice research and is a GP Educator. Roles outside of RACGP include the Strategy and Policy Committee for Breast Cancer Network Australia, Board Director of the Melbourne University Teaching Health Clinics and the elected GP representative to the AMA Federal Council.
Magdalena has presented at the United Nations as part of the Australian Assembly and was recently appointed the Australian representative to the World Health Organisation, World Assembly on COVID 19, by the Medical Women's International Association (MWIA).
A/Professor Simonis was a member of the National COVID-19 Taskforce expert committee which will lead into the development of the Australian CDC.