Dr Maria Boulton
Dr Maria Boulton has been elected the 127th President of AMA Queensland. She is the ninth woman to hold the role in the Association's 128-year history. Dr Boulton, a GP in Brisbane, succeeds Professor Chris Perry and Dr Yim succeeds Dr Bav Manoharan.
"I have been lucky to have worked very closely with Chris and Bav. Both have been champions for general practice and I will follow their lead as a President who works for all members, regardless of where they work, what specialty they're in, or what career stage they are at," Dr Boulton said.
"I am excited to continue working with Nick. His daily experiences of the health system outside of the big cities and his previous career as a pharmacist bring invaluable insights as AMA Queensland fights for patient safety against dangerous proposals like the Queensland Government's plan to let pharmacists diagnose and sell medicines for serious conditions with no medical oversight.
Congratulations from the AFMW!
Read the AMA Queensland announcement
Dr Magdalena Simonis
Australian Federation of Medical Women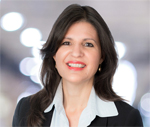 Magdalena is the President of the AFMW (2020-) and former President of VMWS (2013 & 2017-2020), National Coordinator AFMW, MWIA Scientific and Research Subcommittee co-Chair, MWIA Mentoring and Leadership, Special Interest Group, Chair
Magdalena's deep engagements with the RACGP over many years includes chair of Women in General Practice, is currently on the RACGP Expert Committee Quality Care, prior to that on RACGP eHealth Expert Committee. She is a regular media spokesperson on numerous health issues, being interviewed most weeks by mainstream and medical media. Magdalena has represented the RACGP at senate enquiries and has worked on several National Health Framework reviews.
Both an RACGP examiner and University examiner she supervises medical students and undertakes general practice research. Roles outside of RACGP include the Strategy and Policy Committee for Breast Cancer Network Australia, Board Director of Women's Health Victoria and Chair of their Strategy and Policy subcommittee and the AMA Victoria GP Network Committee.
Magdalena has presented at the United Nations as part of the Australian Assembly and was recently appointed the Australian representative to the World Health Organisation, World Assembly on COVID 19, by the Medical Women's International Association (MWIA).
A/Professor Simonis is currently a member of the National COVID-19 Taskforce expert committee, and Chair of the MWIA Mentoring and Leadership Special Interest Group.