In this article by Alex Economou, originally published in the NEOS KOSMOS, AFMW President, Associate Professor Magda Simonis shares the importance of simply getting vaccinated. 
---
Two Greek doctors, one in Melbourne and one in Sydney are calling on people to be vaccinated, whether with the AstraZeneca or the Pfizer BioNTech vaccines, as these are the most effective way to counter the rapidly spreading Delta variant of the COVID-19 virus and ultimately protect themselves and their loved ones.
General Practitioners (GPs) who were at the forefront of providing vaccinations in Australia were not pulling away from their role in providing vaccinations said Dr Magadelena Simonis who is a Clinical Associate Professor at the University of Melbourne and member of the Royal Australian College of General Practitioners Expert Committee for Quality Care.
"It is up to us (GPs) to give the vaccines to as many people as possible to push the vaccination strategy forward and help patients to navigate the complexities of gray zones created by the drama (in the media) of potential side effects (to the vaccines) which we know are very small," Dr Simonis told Neos Kosmos.
"GPs consistently navigate gray areas with patients, we talk to them about the risks and it is taken for granted as this exchange of information happens for many medical procedures.
"The measured risks of taking the COVID-19 vaccines are lower than they are for some medical procedures, such as in administering anaesthetics."
She said that while there was a risk of clotting in taking the AstraZeneca vaccine, the risks were very low – four to six people per one million vaccinated. She added that signs of clotting could be detected and treated within 28 days of receiving an AstraZeneca vaccination.
Data from Britain, where the majority of the people had received AstraZeneca, showed that the number of people with COVID-19 was down, fewer people were needing treatment in ICU (Intensive Care Units) and society was starting to open up again.
"Some people may feel they have gotten the wrong shot – but those who had the first AstraZeneca shots did not make a mistake.
"I repeat: we know that if they get the second Astra Zeneca shot, they have a 92 per cent protection against the Delta variant related hospitalisation from the disease and 60 per cent protection against the symptomatic disease. Both outcomes are very very good," she said.
The benefits of the Pfizer vaccine is that two doses are taken more closer together for quicker immunisation, there was a lesser risk of clotting and it can be administered to pregnant or breastfeeding women or people of an indigenous background. It can also be given to 16 year olds and older or to children with chronic diseases.
"But when you look at the figures for the fully vaccinated, both AstraZeneca and Pfizer are similar. They both work on preventing the disease and preventing death. The problems mainly arise at the first-vaccination stage and are much lower for the second vaccination.
Dr Con Costa OAM, a Sydney GP and Public Health Physician, said much of the uncertainty was fuelled by a vocal anti-vaxxer conspiracy movement on social media. He recently was targeted in a virulent campaign after he called on members of the Greek community to seek vaccination.
"People are anxious about the new vaccines, I get that. It is a new technology. But there is a concerted fear campaign on social media – where everyone is an expert.
"There has also been a lot of mixed messaging and poor management by our government and the authorities which fuels vaccine hesitancy," Dr Costas said.
He cited the experience of Florida where the vaccination rate was at 50 per cent of the population and much lower than the rest of the USA.
"Not surprisingly, all the ICU beds in Florida are full. So, if you follow the anti-vaxxers, there will likely be no bed in ICU if you are suffering from the virus, and no bed if you simply have a massive heart attack."
Dr Simonis said: "Wearing masks, ventilation in indoor spaces, hand washing and social distancing will still be required until at least 80 per cent of the population is vaccinated. We need to get this (vaccinations) done as soon as possible and there are there are more supplies of PfizerBioNTech coming available every day. And we do have plenty of AstraZeneca and this is a good vaccine. Both vaccines are proven to reduce ICU admissions, deaths and hospitalisation rates."
She said that GP practices that had become vaccination centres did not benefit much financially from doing so.
"GPs are here to help and, yes, we are the forefront of carrying out the consultations with confused and often angry patients. Our staff are being argued with for not booking them in for a Pfizer vaccine but even with the supplies that some GP practices have, there are restrictions around who administer them to. There are ongoing demand-and-supply issues."
Dr Costa said it was time for the community to act. "People need to start protecting themselves and their families from the dangerous Delta variant. And it is not just the old and the sick. Half the new cases in Sydney are under 19 years," he said.
"The question before the Greek community of Australia is: Who are you going to trust in a complex situation where the ultimate price may be your life, the life of a loved one, or prolonged lockdowns because case numbers keep rising and not enough people vaccinated?"
Photo: David Gray/AAP Image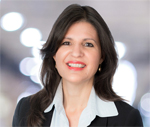 Magdalena is the President of the AFMW (2020-) and former President of VMWS (2013 & 2017-2020), National Coordinator AFMW, MWIA Scientific and Research Subcommittee co-Chair, MWIA Mentoring and Leadership, Special Interest Group, Chair
Magdalena's deep engagements with the RACGP over many years includes chair of Women in General Practice, is currently on the RACGP Expert Committee Quality Care, prior to that on RACGP eHealth Expert Committee. She is a regular media spokesperson on numerous health issues, being interviewed most weeks by mainstream and medical media. Magdalena has represented the RACGP at senate enquiries and has worked on several National Health Framework reviews.
Both an RACGP examiner and University examiner she supervises medical students and undertakes general practice research. Roles outside of RACGP include the Strategy and Policy Committee for Breast Cancer Network Australia, Board Director of Women's Health Victoria and Chair of their Strategy and Policy subcommittee and the AMA Victoria GP Network Committee.
Magdalena has presented at the United Nations as part of the Australian Assembly and was recently appointed the Australian representative to the World Health Organisation, World Assembly on COVID 19, by the Medical Women's International Association (MWIA).
A/Professor Simonis is currently a member of the National COVID-19 Taskforce expert committee, and Chair of the MWIA Mentoring and Leadership Special Interest Group.