March 1-7 is Endometriosis Awareness week and in December 2017, the Minister for health Mr Greg Hunt acknowledged there was a need for improved awareness, education, diagnosis, treatment of, and research into endometriosis and pelvic pain. This National Action Plan for Endometriosis (the Plan) emerged from the combined efforts of patients, advocacy groups, clinicians, researchers and parliamentarians to have endometriosis acknowledged as a substantial health burden in Australia where 1 in 10 women suffer from this disease.
I was privileged to be selected to participate in this National Action Plan and was involved in the Endometriosis Online Learning Resource Steering Committee (EOLRSC).
Our small team comprised of 10 clinicians from Australia and New Zealand and we sought to address the following question https://womensagenda.com.au/latest/1-in-10-women-are-affected-by-endometriosis-so-why-does-it-take-so-long-to-diagnose/ by providing an online learning module worth. In 2020 the Raising Awareness for Endometriosis Tool (RATE) and the online learning module were launched. The learning module is worth 40 RACGP/ACCRM/APNA/ RANZCOG CPD points.
Resources
I welcome you to download and share the free learning module and RATE tool with your colleagues.
1. CLIMATE: Endometriosis
https://www.climate.edu.au/mod/page/view.php?id=13314
2. RANZCOG – RATE Raising Awareness Tool for Endometriosis
https://ranzcog.edu.au/womens-health/patient-information-guides/other-useful-resources/rate
From Here
We haven't stopped at that though, even though this part of our project has been completed. Dr Jacquline Frayne ( University of Western Australia) and Professor Alan Lam (University of New South Wales) and myself ( University of Melbourne) are conducting a research project to evaluate the use of RATE and assess how useful it is in helping in diagnosing endometriosis earlier.
Hopefully this research will address a sizeable gap that exists in the literature around endometriosis in primary care. Working on the EOLRSC ( Endometriosis Online Resource Steering Committee) has required me to explore current practice in primary care and there is a paucity of published information other than current NICE guidelines from the UK. As for what the current understanding of attitudes to and management of pelvic pain, dysmenorrhoea, endometriosis – the entire spectrum of this diagnostic conundrum – in primary care is, little is documented. . I will keep you all posted of the developments and findings of our research.
For More Information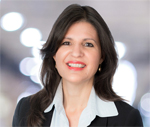 Magdalena is the President of the AFMW (2020-) and former President of VMWS (2013 & 2017-2020), National Coordinator AFMW, MWIA Scientific and Research Subcommittee co-Chair, MWIA Mentoring and Leadership, Special Interest Group, Chair
Magdalena's deep engagements with the RACGP over many years includes chair of Women in General Practice, is currently on the RACGP Expert Committee Quality Care, prior to that on RACGP eHealth Expert Committee. She is a regular media spokesperson on numerous health issues, being interviewed most weeks by mainstream and medical media. Magdalena has represented the RACGP at senate enquiries and has worked on several National Health Framework reviews.
Both an RACGP examiner and University examiner she supervises medical students and undertakes general practice research. Roles outside of RACGP include the Strategy and Policy Committee for Breast Cancer Network Australia, Board Director of Women's Health Victoria and Chair of their Strategy and Policy subcommittee and the AMA Victoria GP Network Committee.
Magdalena has presented at the United Nations as part of the Australian Assembly and was recently appointed the Australian representative to the World Health Organisation, World Assembly on COVID 19, by the Medical Women's International Association (MWIA).
A/Professor Simonis is currently a member of the National COVID-19 Taskforce expert committee, and Chair of the MWIA Mentoring and Leadership Special Interest Group.