The Australian Federation of Medical Women sees climate change as the greatest risk to health. As we have seen with natural disasters, climate change has even more negative implications for women, as they are care-givers to children and elders, have less money, less access to fewer resources all of which are exacerbated when they are pregnant or have a chronic condition or are from culturally and linguistically diverse groups, refugees and First Nations people.
To prevent premature deaths, address climate and health inequity and unlock substantial health and economic benefits, we urge the Victorian government and the Opposition to commit to renewable energy by 2030 for all domestic use as a start, as we work together to protect the health of the nation.
I am writing to you from Victoria's Parliament House where I am joined by a group of passionate health workers who are delivering the Clean Energy for Health open letter you signed (alongside over 200 health workers and 21 organisations)!
Your support for 100% renewable energy by 2030 has been communicated loud and clear to the Victorian Government and Opposition as health workers, students and community members have united to advocate for a healthier future for all Victorians.
Anita Muñoz, Victorian Chair of the Royal Australian College of General Practitioners (RACGP), has just spoken to the crowd. She says, "climate change is a health emergency, and the most critical preventative health intervention is wide scale decarbonization. As Australia's largest representative body for general practitioners in Australia, the RACGP is joining calls for bipartisan commitment from the Victorian Government and Opposition to support a policy of 100% renewable energy for Victoria by 2030. This is a step in the right direction, but we must act now."
We've also heard from Magdalena Simonis, President of the Australian Federation of Medical Women, and I read a moving account from Veronique Hamilton, a Mental Health Nurse from the Latrobe Valley.
Our giant-sized copy of the letter was accepted by Climate Minister Lily D'Ambrosio's representative and we've been speaking with the media who are interested to hear the concerns of the health community. All in all, together we have clearly got the message across that renewables are better for our health and we need strong targets now.
We must keep the pressure up!
Can you share these posts about today's action on social media to keep pressure up and encourage others to join you in signing the open letter?
Share on FACEBOOK
Share on TWITTER
Join the Online Action: 11 October
To build on the momentum of today's action we will be coordinating an online action on Tuesday 11 October which will involve sending messages via social media and email to VIC ministers calling for a 100% renewables commitment. We will be in touch again with more details, but please mark it in your diary.
Thank you again for helping have a positive impact today!
With thanks,
Ursula
Ursula Alquier
Regional Victorian Community Campaigner
Healthy Futures
P: 0474 803740
E: [email protected]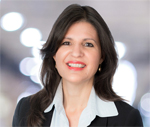 Magdalena is the President of the AFMW (2020-) and former President of VMWS (2013 & 2017-2020), National Coordinator AFMW, MWIA Scientific and Research Subcommittee co-Chair, MWIA Mentoring and Leadership, Special Interest Group, Chair
Magdalena's deep engagements with the RACGP over many years includes chair of Women in General Practice, is currently on the RACGP Expert Committee Quality Care, prior to that on RACGP eHealth Expert Committee. She is a regular media spokesperson on numerous health issues, being interviewed most weeks by mainstream and medical media. Magdalena has represented the RACGP at senate enquiries and has worked on several National Health Framework reviews.
Both an RACGP examiner and University examiner she supervises medical students and undertakes general practice research. Roles outside of RACGP include the Strategy and Policy Committee for Breast Cancer Network Australia, Board Director of Women's Health Victoria and Chair of their Strategy and Policy subcommittee and the AMA Victoria GP Network Committee.
Magdalena has presented at the United Nations as part of the Australian Assembly and was recently appointed the Australian representative to the World Health Organisation, World Assembly on COVID 19, by the Medical Women's International Association (MWIA).
A/Professor Simonis is currently a member of the National COVID-19 Taskforce expert committee, and Chair of the MWIA Mentoring and Leadership Special Interest Group.