Meet Dr Rosalind Terry
Herstory this month features Dr Ros Terry, Surgeon, Victorian Medical Women's Society Seniors Rep and Constance Stone Award recipient.
Dr Rosalind 'Ros' Terry has been a valued member of the Victorian Medical Women's Society (VMWS) since she graduated from medicine in 1973 and to this day remains the VMWS Senior Member's Representative. With our face to face events, Ros has always made it her responsibility to collect our Elders from their homes and Aged Care Facilities and bring them to our events, then to take them home again even on our late nights. Ros is active at committee meetings and imbues them with her positive insights, stories that make us laugh and helps us look at our own situations differently. Ros fills the room with positive energy which explains why The Alfred Emergency Department almost refused to let her retire!
---
Ros' Story
My Journey Starts in 1973
I graduated from Medicine at University of Melbourne in 1973, after first doing a degree in science even though studying medicine was my desire. I was the first in my family to ever go to University and in those days, my father felt that education on women was a waste of money and time.  So, I got around this by applying for a Commonwealth Scholarship, which I happily received. When I told my family the news, my father's response was, 'Well we can't throw away a scholarship, but you have to do the shortest course, and that's not medicine'. I therefore applied to do science, which was the closest thing related to medicine and graduated in three years.
After specialising in Biochemistry and Microbiology, I went to the USA and worked in my field of expertise then returned to Tasmania to work in the department of Agriculture in a research laboratory developing ways to vaccinate against hydatid disease. My boss in Tasmania was aware of my desire to become a doctor and he supported my application to get into medicine. I started the course in 1969, whilst living in a tiny flat near the Royal Melbourne Hospital (RMH). I paid for my study by working in the Biochemistry department nights and weekends.
My internship was at RMH and I developed a taste for surgery. I think my work in agriculture and veterinary science sparked this off, so I then applied to train in surgery St Vincent's in Sydney. The nuns there accepted my application, making me the first female surgical registrar and surgeon at St Vincent's, Sydney. As with most of life's unexpected turns, a surgical rotation to Papua New Guinea resulted in a ten-year stay. I lived and worked there as a surgeon and loved this time, as I felt useful and like I was making a difference every day. It certainly was challenging at times working in villages with limited resources, but the gratitude expressed by the local people for having a female surgeon or even just a surgeon to tend to them when sick, was very rewarding.
After a period and with ageing parents, I felt the longing to return to Australia but felt that I'd been away from the system here for such a long time, that I took a two-year detour through Norfolk Island to work, before returning here.
My Mentors
My mother was a very kind woman who supported my desire to become a doctor. She was dux at school and had to leave at age fourteen to apprentice as a dress maker, as girls did in the 1940s. When I was in grade 6, I remember my mother taking me Methodist Ladies College (MLC), a most prestigious school to this day, to sit a scholarship, which I was awarded in full. My entire secondary school education was paid for by my scholarships, thanks to mum's determination to help me get a good education.
Other than mum, I can't say I had any mentors. In those days, it wasn't even part of our conversation. Other than mum, there were no other positive influencers  within my family and in my life, apart from the kind employer in Tasmania and the supportive nuns, there were more negative ones along the way.
Three Things  I Learnt
1. Stick to what you love and don't lose sight of your dream
2. Follow your passion
3. Find a way to get to where you want to go. It might be a curved pathway but with time, it'll get you there.
My key message to others
If you are going to study medicine, do it because you really love it. Don't go into medicine because others tell you to or just to follow the family way. It is a career that requires full  commitment.
When times are tough, tell yourself, 'I'm doing what I have to do therefore I'm not going to let anyone else influence me negatively.'
When studying medicine, and you find yourself unsure about which direction to specialise in, try as many different rotations as you can so you get a feeling for what this would be like. It might take time but when you search broad and wide, you will eventually find something that feels right.
Don't' be afraid to change your path.
Thank You Dr Ros Terry for being such an example to all of us on how to keep growing, investing in people and learning new things. Your valued insights have helped many medical professionals along the way and we are grateful that you continue to do so at AFMW.

Hopefully by reading these vignettes, you learn something new about career development and aspects of mentoring. You are also invited to learn more about Ros's amazing career by connecting directly with her through VMWS directly

Magdalena Simonis
President, Australian Federation of Medical Women
---

About 'Herstory'
The online AFMW Herstory E-Book, gives AFMW members the opportunity to contribute to the AFMW oral tapestry, by forming a compilation of  'our mentoring stories', in which we  honour those who have changed our lives. Making this an online AFMW story book, encourages us each to consider contributing to building this over the years, into a collection of medical women's 'key take home messages', as we share the wisdom we each have gained from our own lived experiences.  The 'golden nugget of wisdom' that we would share with someone who asked us about what we have learned.
Add Your Story
If you would like to contribute your story, please download the Herstory template (Word doc), add your details and return the completed form to [email protected]. Please also submit a photo of yourself with this. It can be a 'selfie' taken with a good camera that you would be happy to have others see.
---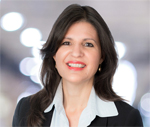 Magdalena is the President of the AFMW (2020-) and former President of VMWS (2013 & 2017-2020), National Coordinator AFMW, MWIA Scientific and Research Subcommittee co-Chair, MWIA Mentoring and Leadership, Special Interest Group, Chair
Magdalena's deep engagements with the RACGP over many years includes chair of Women in General Practice, is currently on the RACGP Expert Committee Quality Care, prior to that on RACGP eHealth Expert Committee. She is a regular media spokesperson on numerous health issues, being interviewed most weeks by mainstream and medical media. Magdalena has represented the RACGP at senate enquiries and has worked on several National Health Framework reviews.
Both an RACGP examiner and University examiner she supervises medical students and undertakes general practice research. Roles outside of RACGP include the Strategy and Policy Committee for Breast Cancer Network Australia, Board Director of Women's Health Victoria and Chair of their Strategy and Policy subcommittee and the AMA Victoria GP Network Committee.
Magdalena has presented at the United Nations as part of the Australian Assembly and was recently appointed the Australian representative to the World Health Organisation, World Assembly on COVID 19, by the Medical Women's International Association (MWIA).
A/Professor Simonis is currently a member of the National COVID-19 Taskforce expert committee, and Chair of the MWIA Mentoring and Leadership Special Interest Group.