In the article, originally published by in the RACGP's newsGP, Dr Simonis discusses how IVF success rates are increasing in Australia. However it is still important to emphasise that waiting longer, is not ideal for conception or freezing eggs.

Although IVF rates have improved, which is a terrific thing, the key factors affecting conception and healthy pregnancy remain the basics:
Age- for females ideally <35 years and for males ideally < 40 although it is less significant for them
Timing of sex.
Managing medical conditions – endometriosis especially. Screening for STIs, asking about menstrual patterns, controlling weight and diabetes, cancer treatments that may have affected egg/ sperm.
Being healthy – obesity is associated with reduced fertility and increased pregnancy complications, such as gestational diabetes, pregnancy induced hypertension, and larger babies resulting in obstructed labour.
Making healthy lifestyle choices: avoiding toxins smoking, alcohol, drugs.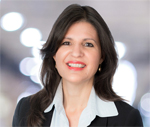 Magdalena is the President of the AFMW (2020-) and former President of VMWS (2013 & 2017-2020), National Coordinator AFMW, MWIA Scientific and Research Subcommittee co-Chair, MWIA Mentoring and Leadership, Special Interest Group, Chair
Magdalena's deep engagements with the RACGP over many years includes chair of Women in General Practice, is currently on the RACGP Expert Committee Quality Care, prior to that on RACGP eHealth Expert Committee. She is a regular media spokesperson on numerous health issues, being interviewed most weeks by mainstream and medical media. Magdalena has represented the RACGP at senate enquiries and has worked on several National Health Framework reviews.
Both an RACGP examiner and University examiner she supervises medical students and undertakes general practice research. Roles outside of RACGP include the Strategy and Policy Committee for Breast Cancer Network Australia, Board Director of Women's Health Victoria and Chair of their Strategy and Policy subcommittee and the AMA Victoria GP Network Committee.
Magdalena has presented at the United Nations as part of the Australian Assembly and was recently appointed the Australian representative to the World Health Organisation, World Assembly on COVID 19, by the Medical Women's International Association (MWIA).
A/Professor Simonis is currently a member of the National COVID-19 Taskforce expert committee, and Chair of the MWIA Mentoring and Leadership Special Interest Group.