Medical Women in Technology and Health – MedWiTH
Welcome to Medical Women in Technology and Health MedWiTH, a site dedicated to Technology and Health, the opportunities for the medical work force and particularly for women in medicine. Nowadays, around 50% of medical graduates are women, yet there are very few in the digital health space. MedWiTH is about Raising awareness and taking action
The blend of Health and Technology is fast becoming one of the biggest industries and it is set to grow exponentially as we all grow older. Developing and designing the systems that are intuitive and acknowledge the wisdom of clinical expertise through a gendered lens is very important. The UNESCO advises that strenuous efforts need to be made at government, academic and corporate levels to address this gender imbalance. The challenge is to attract and then retain women in these subject areas and maintain momentum in the Fourth Industrial Revolution.
Inaugural MedWiTH Webinar
With this in mind, I have met with the CEO of Australian Institute of Digital Health, Dr Louise Schaper and founder of Creative Careers, Dr Amandeep Hansra  and have invited them to talk with us at our inaugural MedWiTH session on October 14th. We will learn about now to get involved in the health tech industry even with little technological expertise,  about the importance of bringing the gender lens to the development of the systems that we and our patients interact with for their health.
This should interest all women in medicine, as we are and will be the end users of these systems.
Medical women looking for alternative pathways can explore the opportunities that exist health tech industry. Some might be budding health technology developers. Earlier in the year I met with founders of Telstra's Brilliant Connected Women in Digital Health in preparation for this conversation also.
More recently, I gave an interview  on the need for engagement of women doctors specifically and the opportunities which I am  keen to address through AFMW MedWiTH which will be shared through a podcast with Talking Tech Health Peter Birch. Women doctors need to start thinking about this, drive this and build up their skills. The podcast is going live on 21st Sept.
Further Inspiration
Check out some of these sites for more information and to get inspired:
Hope you find all this as inspiring as I do! See you at our event on the 14th October.
Kind regards,
Magdalena Simonis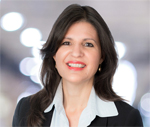 Magdalena is the President of the AFMW (2020-) and former President of VMWS (2013 & 2017-2020), National Coordinator AFMW, MWIA Scientific and Research Subcommittee co-Chair, MWIA Mentoring and Leadership, Special Interest Group, Chair
Magdalena's deep engagements with the RACGP over many years includes chair of Women in General Practice, is currently on the RACGP Expert Committee Quality Care, prior to that on RACGP eHealth Expert Committee. She is a regular media spokesperson on numerous health issues, being interviewed most weeks by mainstream and medical media. Magdalena has represented the RACGP at senate enquiries and has worked on several National Health Framework reviews.
Both an RACGP examiner and University examiner she supervises medical students and undertakes general practice research. Roles outside of RACGP include the Strategy and Policy Committee for Breast Cancer Network Australia, Board Director of Women's Health Victoria and Chair of their Strategy and Policy subcommittee and the AMA Victoria GP Network Committee.
Magdalena has presented at the United Nations as part of the Australian Assembly and was recently appointed the Australian representative to the World Health Organisation, World Assembly on COVID 19, by the Medical Women's International Association (MWIA).
A/Professor Simonis is currently a member of the National COVID-19 Taskforce expert committee, and Chair of the MWIA Mentoring and Leadership Special Interest Group.